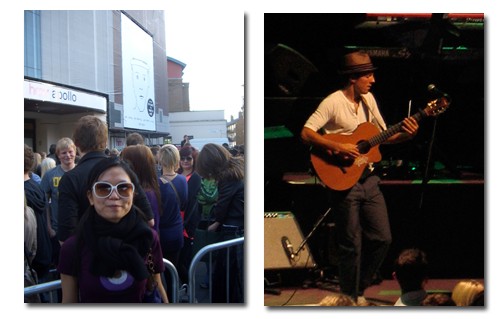 Discovered Jason when he had released his first albumMr. A-Z in 2006, and since then, his music is pleasure to listen to. Friends saw Jason performed in HK last month, and said it was an amazing concert. So we finally arrived Hammersmith Apollo last night, where there were many young fans already standing outside, trying to get the good spots to see Jason. We also lined up before it might get too late.
It started at 7: 30, and surprisingly, Jason came out and introduced the warm-up bands, one was Priscilla Ahn, who also sang with Jason for the song called "Lucky" later on. I like Priscilla's music and her voice was pretty good.
After 8: 30, the whole concert was full. When Jason came out, fans started getting so crazy to welcome him. He basically sang his latest album – We Sing, We Dance, We Steal Things. When he and Priscilla were singing "Lucky", then "I'm Yours", all the fans were singing together and it was a fantastic atmosphere!
Overall, Jason performed very well, and he gave fans many surprises. We did enjoy his concert and look forwards his new album soon. (Jason cover picture is from Flicker.com)
在2006年发掘Jason出第一专集Mr.A-Z 的时候就喜欢上他的音乐,他的音乐让人感到十分阳光和放松,很有California, 沙滩,享受生活的味道。朋友们都去看他在香港演出,说他的表演超级棒呢。终于等到他在伦敦演出拉,昨晚,很多歌迷6点还没到就在排队,要抢最好的位子看Jason.伦敦演唱会都是一个价钱,只是你选择要站还是要做。所以歌迷都纷纷要提前排队,抢个头位。 我们7点也就排上队,等着开场。
7点半就准时开场,惊奇的事,Jason亲自出来介绍'热身'队 - 一个叫Priscilla Ahn的吉他女歌手,声音和歌曲都不错。到了8点半,全场的坐位都爆满,当Jason出场时,歌迷尖叫声不断。当他和Priscilla唱 "Lucky" 和 "I'm Yours" 的时候,全场歌迷都纷纷和他一起唱,气氛超好!他主要唱他的最新专集,虽然没有唱很多首我的最爱,但他的表演功和调动歌迷的气氛十分棒。疯狂的歌迷被他的声线迷倒了。我们都期待他另一张新专集。