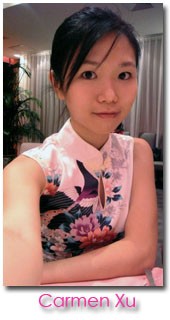 Hello, My name is Carmen Xu. I'm a 30 year old girl living in West London and working in Hyde Park. I am originally from Shantou, another city in Guangdong province, but much smaller and further east along the coast.
I can speak several languages, including Mandarin, Cantonese, Chaoshanese, English, and Japanese.
I have a quick mind, lots of energy and a never-failing enthusiasm that brings me back on my feet after a fall. I have a radiant shrewdness unmatched elsewhere. I like to make people happy. For me the passion to work, life and love is always guiding me everyday.
Many friends have accompanied me through the years. Some from kindergarten till now; some are supporting me no matter where I am. I love all my friends.
Friends are like stars; you many not always see them but you know they are always there.
朋友如星辰,你不一定总能看到他们,但你知道他们总在那里。
I love listening to Jazz music and have a collection of almost a thousand CDs!
Music and book are the most important two things in one's life.
人生不可缺少的两件东西—音乐和书.
Life is so short; show more love and grace to people. (From Carmen)
生命苦短,给别人多点爱和恩惠。
I am master of my fate; I am the captain of my soul. (From William Ernest Henley)
我是命运的主人,我能驾御我的灵魂。
Always give without remembering and always receive without forgetting (From Brain Tracy)
不要记得给予多少,但紧记授予多少。
I do not believe in failure; it's not failure if you enjoyed the process (From Oprah Winfrey)
我相信失败,如果你享受了过程,这就不算失败。
People that life in worth living and there are causes worth dying for (From Ernest Hemingway)
人活着是有价值的,总有事是值得你为它而献身。
Human life is transient, but art is immortal. "Beauty is truth, truth beauty,"—that's all. (From John Keats)
人生苦短,艺术永恒。
—-Know More about Carmen: (Questions and Answers)
Questions: What do you think it's your happiness?
Carmen: I hope I could share all my love and happiness to people. I see people smile then I will smile. It's very truly happiness.
Q: What will make you feel so scared?
C: I guess could be all the insects.
Q: Who is the person you admire?
C: Everyone who is smarter than me.

Q: Which part of your character you dislike yourself?
C: I always trust people and I always pretend there is no devils or bad things in this world.

Q: What are your most treasure things in your life?
C: Friends, family, who I love and who loves me , and music I like

Q: What will be the most incredible moment in your life?
C: I think it will be the time when I travel the world; I know I will say all the time "IT'S SO BEAUTIFUL!"
Q: What the slogan you like?
C: Life is too short and never stop challenging yourself.
Q: What are the things you have and someone doesn't have?
C: Big smile and always being happy and craziness.
Q: What kind of friends you will choose to be friend?
C: Kindly and generous to show her/his kindness. Oh, BIG smile…I love smiles from people.
Q: What kind of way you will choose to die for?
C: Peaceful and holding my husband's hands
Q: What is your dream?
C: It's so funny that I remember when I was 10 years old, my best friend Shine and I had a plan and printed our dream-house, which will be in Austria. I hope it will be true and I could travel a lot of places with my man and learn so many things to fulfill my life.
Thank you for reading my blog and posts.
Carmen