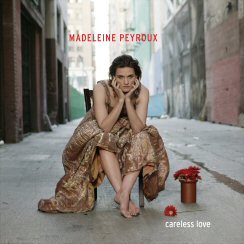 Madeleine Peyroux a 22-year-old American who had been living in Paris as a street musician, suddenly found herself on the fast track to fame. Appearances at Lilith Fair and jazz festivals, and opening tours for Sarah McLachlan and Cesaria Evora followed, while Dreamland's sales reached an impressive 200,000 copies worldwide. "It was great," recalls Peyroux. "I got to perform with fantastic musicians. I got to see Nina Simone live. I could've kept running with it, but instead I stepped back and took a breather."
Many people have compared her sound to Billie Holiday and we tend to agree.Among the songs she covers are Leonard Cohen's "Dance Me to the End of Love," Bob Dylan's "You're Gonna Make Me Lonesome When You Go," Elliott Smith's "Between the Bars" and Hank Williams' "Weary Blues from Waitin'," each a twist on the original — Cohen more haunting, Dylan more joyful — accentuated by an able band and Larry Klein's delicate production. Her time away hasn't hurt sales; the album is lodged in the top five on Billboard's jazz chart.
Well I heard Peyroux voice it's from the soundtrack of the movie " Autumn in New York"—Theme song " Getting Some Fun Out of Life". Her voice isn't sound like a 22-pear-old girl; it's pretty deep and special voice but fix jazz vocals. The " Weary Blues" and " Dance me to the End of Love" first came to my ears and I feel like I am in love again and make me want to sway immediately. Good music need to be appreciate and no need to talk too much. Let's bring a glass of wine or bubbling champagne, play her music, and enjoy the moment.
Madeleine Peyroux 是个才华横溢的女爵士歌手,一个美国女孩现居巴黎,从她的音乐绝对听不出她只有22岁,声线低沉,细腻,柔滑象在你皮肤身上滑过。记得第一次听到她的声音时,在电影"纽约的深秋"家里有这张原声大碟,大多数是爵士的配乐,隔了甚久,她在2004年终于出了" Careless Love"这张专集,首首歌都让你觉得韵味十足。在第一次听到"Weary Blues"和"Dance me to the End of Love"让我感到我再次恋爱了,瞬间想跟音乐一起摇摆. 好的音乐需要会欣赏它的人去慢慢品尝。让我们拿起一杯红酒或杯香滨,放着Madeleine Peyroux的CD, 好好享受下。