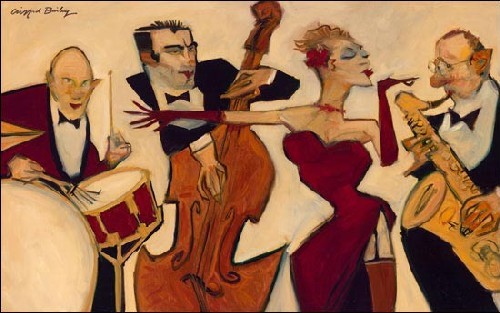 Today it's my 27 years birthday but also is my first birthday in the UK. I am very grateful that I have met a lot of good friends as well as having such a good time together during the school term. Last night, we went to celebrate our tri – birthdays for Elieen from Korean, John and me who were all born in March with Miwa and Vicky. John found a French restaurant called Savoir Faire in Holborn, and it has been recommended as the top-table in 2008 with 5 stars reviews.
The restaurant was very cosy, French style with oil-panting on the wall. Only flaw was the music! The price was affordable and the food was absolutely tasty, just like their name – Savoir Faire in French means someone knows the trick.
We ordered some wine, starters, main courses and desserts. I ordered a slowed-braised lamp and it was a super huge lamb leg with mush-potato, which it could feed two people and I ate them all! Others ordered the popular dish – Duck, and John ordered a fish dish. After the meal, we all stuffed and left with a big satisfaction. Friends and I had a fantastic time with delicious food. London is the city you can think of any food from different nationalities, and never could try them all.
I have received many birthday cards and wishes from friends and families. John bought me the ticket to see Keane with Ladyhawke Concert on 30th of May. I have bought myself many clothes to spoil myself. Moreover, John cooked a delicious fish with roasting huge mushroom with cheese tonight, along with beer and chocolate pudding!
I had a really happy birthday and wish to share my happiness with you. Here some pictures to share with you.
今天是我27岁的生日,同时也是我在英国的第一个生日。幸运的我在短短的半年中认识很多好朋友,也和他们度过了很多校园美好的时光!昨晚我们为了庆祝韩国美女Elieen,约翰和我三人都是3月份生日,一起和日本好友美和和香港老友Vicky一起五人读过。约翰选了个法国餐厅,听说这个餐厅10年历史,评价很高,很多杂志和评论都说食物超级棒,厨师有5星级的水平,这一定要尝试下。
餐厅十分法国味道,2层楼,墙壁是手工的大幅油画,唯一不足的是音乐 – 配合不了餐厅的味道。价钱中高,但食物超级美味! 就像餐厅的名字在法文的意思是 – 它知道秘诀 (他们能做出拿手好菜!)我们叫了红酒,开胃菜,主菜和甜点 – 我选了漫炖了5个小时的羊腿和土豆泥,羊腿够2-3个人的分量,我自己一人独吃掉!其他朋友选了最出名的鸭胸,程度刚刚好,约翰点了鲈鱼,他说超级好吃!然后再甜点!天啊,我们把碟子都吃得一干二净,5个人吃到超级饱,决定去伦敦眼周边走半个小时消化下,大家对餐厅的评价特别高,食物超级物有所值!
太爱伦敦的理由就是你可以吃到全球各地特别好吃的食物,因伦敦多元化很多国际人都在这里生活,餐厅的选择更是超级多,你要你想到的,都可以找到,品种太多了!
约翰送给我Keane的5月底VIP伦敦演唱会门票和一双西班牙出的运动鞋,我看了很久,就是太贵不拾得买,他买了给我。我当天在自己买了几条裙子,哈哈!我们今晚喝些啤酒,烤大蘑菇加芝士在上面,烤鱼和甜点是巧克力布丁,浓浓的巧克力从布丁里面流出来,超级棒!
很多朋友都在facebook和留言给我,谢谢你们的祝福,我度过一个十分开心幸福的27岁生日!照片很快再传上来给大家分享!这是一些最新照片