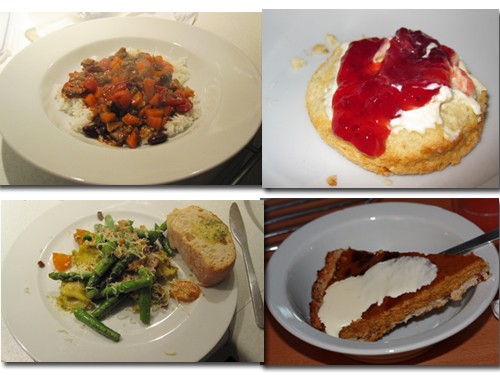 I enjoy baking and cooking different types of food at home. Normally we cook Italian and British food at home, though I could cook some indian or chinese sometimes, it take a lot of preparation and the chinese ingredients are expensive here. I always think my Mum cooks the most amazing chinese food. However, I discovered that my Mum tends to put some pork and nice real meat stock inside the food, but John doesn't like much pork because it is too fatty and greasy he said.
As John nowadays can eat some beef and it is cold winter snow day. I decided to make some Jamie Oliver's recipes. Beef stew is the easiest winter food. It tastes meaty with different herbs. You can eat with some garlic bread or some Jasmine rice. Superb!
I always cook Bacon Asparagus Tortelloni and it is the quick and health dish, but delicious. Asparagus needs to be careful, hot water 3 minutes, and ice water for 1 minutes, then fried with garlic and butter 1 minutes. It will be the most crunchy tasty Asparagus ever. Trust me. I think I know different herbs and meat combination since I learned so much from the chef from TV.
I made some of the scones from James Martin's dessert book, eat with clotted cream and Jam! As the dessert expert John said it was the most moist inside, crunchy outside and delicious scone ever, and better than a lot of shops are selling. It gave me so much joy and confident about my cooking.
The pumpkin pie we normally make at the weekend. I just made some chocolate cookies yesterday. I love cooking and I think it is nothing happier than people you love eating well and enjoying the food.
Good food, good music and good accompanies, then Happy Day!