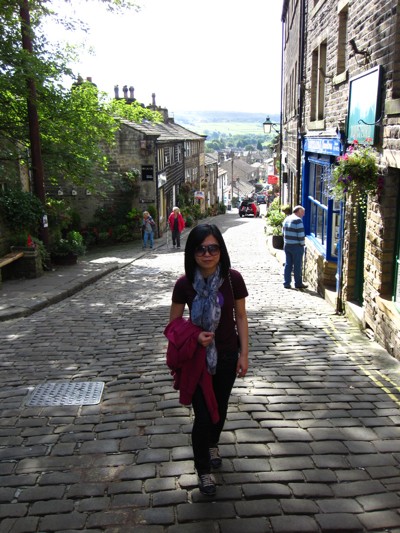 It's a beautiful sunny weekend, so we both decided to travel somewhere. Haworth is one of the famous pretty town in the Yorkshire because of the The Brontës Sisters. After 30 minutes driving, we arrived the town. It was small, but pretty and peaceful. The sisters, Charlotte (born 21 April 1816), Emily (born 30 July 1818), and Anne (born 17 January 1820), are well known as a trio of sibling poets and novelists. I remembered that when we were in the University, we used to read Bronte sister's book in our literature classes.
It was nice to visit Haworth and we certainly will go back for hiking there. We picked a cafe where was home-baked bread and produced local meat for lunch. John ordered a really big roast beef with Yorkshire pudding, and I ordered a big breakfast with tea. It was reasonable price with big portion and quality tasty food. I do wish all the tourist places should be like that, not over-priced horrible normal food.
I really enjoy little trip like this.