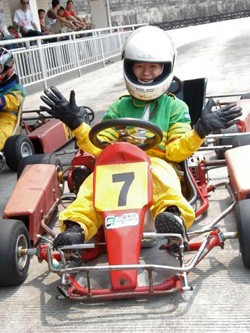 We were invited to try Go-Cart racing (Ka Ding Che) in the National Park at Foshan. At first, I thought it wouldn't be that hard, just like Peng Peng Che. When we got there, the staff taught us some of the rules different flag signals. Wow, it looked really like racing. Most of people there got the driver license except me.
We were separated into two teams, men and women (along with three children). My friends told me that we shouldn't challenge the kids as they are more professional than all of us. Some of them were only 7-9 years old, but I was told they have been racing Go-cart since they were 5. Oh. My God…
Finally it started, I was so nervous that we would drive the real powerful engine. The next was our team. I picked the NO.7 Go-cart. I remember when I was studying in Shantou Foreign Language School, NO. 7 was my seat; and it became my lucky number. I tried my best to drive and the hardest was turning the corners, but I finally made it through.
The first race I was no.9 out of 11 people. Second one was no. 7, then no. 5 in the end. I was happy that I could drive that well and even beat other women.
It was new challenge, exciting and scary but fun Go-carting racing. You need to try one day.
卡丁车比赛
我们被李宁同志邀请去卡丁车比赛,与很多专业赛车的至友一起在佛山三水森林公园整整比赛了一天。我刚开始觉得应该满容易的,就像碰碰车一样。但我们到了场地,经过工作人员一番讲解之后,我才知道,基本个个都有车牌,就我没有,还没有开过一次车的经验,几滴汗水已经从头上滴了下来!我们分成几组,男子组和女子组(加上3个儿童)好友李宁和我说千万不要惹3个小朋友,他们看起来7-9岁,一个个都是赛车老手,5岁就开始赛车了,很Pro的!我的天啊。。。
终于开始比赛了,对着强大嗡嗡声的Engine我十分紧张。男子队赛完了就我们了,我挑了7号车,7号是我中专(初中)的座位号,特别有感情,也是我的幸运号。我尽我最大的努力,拐弯时是最难,最斜的幅度;我还冲去撞了车道的车胎一次(哈哈)但最终我还是圆满结束了我们的比赛。
第一场11人中我排9名,第二场排7名,最后一场排5名,对于我第一次赛车的结果我还是满满意的。 李奶奶第2名(小朋友第1名)。这绝对是个新的挑战,刺激,好玩,却惊险的卡丁车比赛。你一定要试试看。