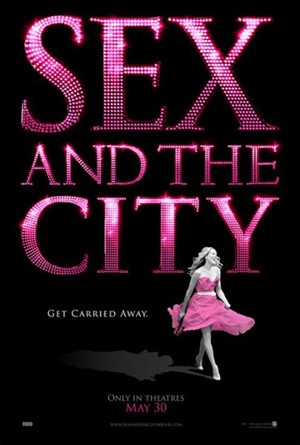 As a big fan of Sex And The City, I have have been waiting to see the movie. London was chosen to host the premier, and all members of the cast showed up in Leicester Square on 12th May 2008. It's a pity that I wasn't arriving in the UK until the week after and so missed the chance to see them. Never mind, the movie opened to the public while I was there, and I did get chance to see it.
Love is complicated…
The movie is a continuation of the last season from TV, and begins by filling in the gaps of the time immediately after the close of the TV show. All the actors are very professional and give skillful performances in the movie. The movie contains different elements which will touch and break your heart, as well as give you joy. I will not say too much about the details of the movie, but you will find out when you watch it. Actually I was in tears several times for the humorous conversation, heart-breaking moments, happy unions, and especially the understanding of different kinds of love in the movie.
I enjoyed the movie so much and there are many moment I felt so connected. I guess the movie is also the end of our legendary story of Sex And The City series. Like the movie says: there are always perfect ending in fairy tales, but in reality, there is not always a perfect ending in our lives.
I gave it 4.5 stars of 5.
作为Sex and the City 忠实fans,我们期待已久的电影版终于上映了,虽然我赶不上12号他们来伦敦的首映,但上周末去电影院就让我一饱眼福了。
爱是复杂的…
电影的主题是关于不同的爱,也是续最后一集连续局接下去的故事。有我们期待想发生的,也有我们不想发生但却发生的故事。每个演员的倾力演出让这部电影更加有味道。电影有很多触动人心感人的场面,有幽默的对白和场景,有伤心落泪,幸福的喜悦和女主角们的坚固友情,这都在短短的2个小时里呈现出来。我不能说太多关于剧情,大家到时候看了就知道。感情十分丰富的我,都被很多场面感动得满面泪水。
Sex and the City 就象是陪伴我们一起长大的故事,2008年这部电影也是对这部连续局10年来划上一个句号。象电影里面说的,童话故事都有完美的结局,但现实上不是每个人都有没有完美的结局,但当然我们还是要保持生活的积极态度。我们会想念这个传奇故事的连续剧,我们也会想念他们的服装,更想念曾经陪我们一起走过的岁月。