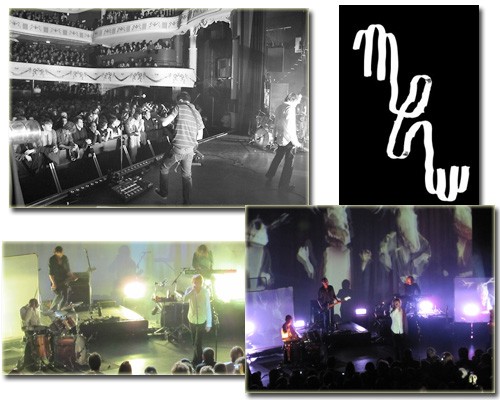 My friend Syrinx had introduced Mew's since March, and we love every single album they produced. John bought their tickets when I was in China, and because we booked that early, we got two fantastic seats ever.I never like standing because I am too short. Beside, I don't like people jumping and sweating on me. (lol)
It was a cold raining night. We went there earlier by half an hour queueing for good seats. It was literately only 50 meters away from the band in the sitting seat first line. The warm-up band was ok, also touring with Mew in the UK.  The concert hall was full of young people and many scandinavia fans too.
Jonas Bjerre has incredible high voice and it combines with their music perfectly. He wore a causal white shirt and jeans. Jonas didn't say much, but said it was their last performance in the UK, and it was kind of sad. I guess UK fans were passionate and crazy about their music and properly they didn't expect like that.  The background animation was fantastic as well. It's said that Jonas had designed all of them –  they were scary, weird and unusual. (I heard those images were from Jonas's dreams). It was certainly creative, and so their music.
They performed most popular and well-known songs, such as ' Special, 156, Am I wry, no and The Zookeeper's boy etc'. I don't think two hours of their performance was enough, and of course, we wish them to perform all their songs, which is impossible.
The atmosphere, the quality of their performance, and most important – their music were superb. And the enjoyment was far beyond words that could describe. Mew played 'Comforting Sounds' to be their last song, which was sad and emotional, and it was a perfect ending.
I found the black and white picture from Mew's official website, which I can see myself and John in the first line of Level one! (haha)