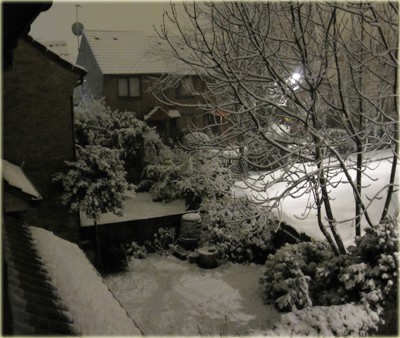 It is coming end of 2009 and surprisingly we might have a white Christmas this year. It was snowing heavily last night and it has more than 5 inches snow after three hours. Actually I have been waiting to snow this winter, and it did visit us earlier than I had expected. I heard that German had their coldest winter with minus 35 degrees these days. Oh, god! It must be so cold!
Snow is always fun and beautiful. London had the heavily snow of 18 years in Feb and I had so much fun with friends. I love heavily snow because it looks like that everything covered with a pure white coat. However, on the other hand, it is sad to hear that there was no electricity in some area because the damage of the heavily snow. Moreover, many trains and flights had to cancel because of that. You can imagine that how frustrated people feel when they want to travel back home for Christmas.
John's parents will come down to London spending Christmas with us so we don't want them to be stuck in the train. Anyway, merry Christmas to everyone – It's time to eat a lot of food and have fun.
It is always nice to have a cup of tea, listening Jazz, looking out and window inside the cozy warm home in the snowing day. I was so excited last night that I had to take a picture from our window.
到了2009最后一个月的月底,昨天超大的一场雪让我们觉得或许今年会有一个白色的圣诞节。昨晚连续下了3个小时的大雪,雪堆积有5尺之深。我总期待着雪的到来,约翰说,很少会在12月下雪的。但这次欧洲一股冷空气降下,听说德国最低气温有零下35度,天啊,一定冷死了。
大雪永远是漂亮和美丽的。伦敦年前2月份下了最大的一场雪 。我和朋友们都乐疯了,少见下雪的我当然喜欢下雪,外面什么东西都好像披上了一件毛茸茸的白色外套。但有小部分地区因为雪太大,没有了电。可想而知,雪不再是漂亮的东西。同时火车和飞机都停走停飞,很多人圣诞都无法回家和家人团聚,所以,白色圣诞对很多人来说不是好事。
约翰家人圣诞来伦敦和我们一起庆祝,我们可不想他们的圣诞在火车上过因为雪太大!无论如何,祝大家圣诞快乐!下雪天最好的时刻就是在待在暖暖的家里,喝着热辣辣的英式奶茶,听着爵士,看着外面的雪。