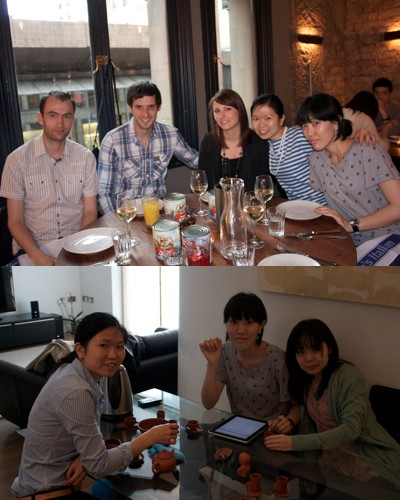 Eileen and Miwa came up to Leeds this week and stayed with us for 3 days. I miss them so much and all the good time we spent in London, and I haven't seen them for 3 months since we moved to Leeds. Sadly the weather was terrible – raining and cold while they were here.
I showed them a little bit Leeds City Centre, and went to Jamie Oliver Italian Restaurant in the evening, and had a such a wonderful dinner, then went to the Sky Lounge in City Inn for more wine and chatting. It did feel like we usually see each other and catch up in trying good food in London.
In second day, Melanie joined our group too, so we drove them to York. Unfortunately it was raining so we saw the raining side of York. The positive side of raining is that all the trees and garden were so green and we had the fresh air. York is always lovely to visit. The only downside of York is too expensive on food because it is a tourist town, and everything is over-price.
After touring around York, we drove back to visit Temple Newsam. It was such a historical house and full of histories. I love big old house like that, such as Henry VIII's Hampton Court in London, and Chatsworth House in Derbyshire. It always make me think what if I were living in that era and what I would be, or doing what things? I am always fascinated about 14th -19th Centuries histories and culture.
Friends were back to London on Weds, and I felt like we are not being apart that long, just doing our normal life in London, rather than in Leeds. I miss them and doing girls things while we were in London.
First picture was in Jamie Oliver Italian Restaurant, and second one was that I made Gong Fu Tea for them while they were playing the Ipad.
You can see more pictures in York and Leeds here.