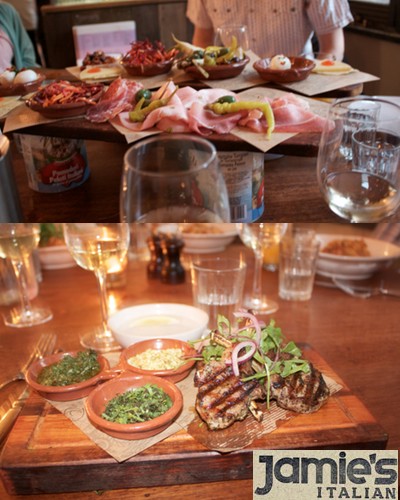 Friends and us went to try the new opening Italian restaurant – the famous chef Jamie Oliver Italian restaurant in Leeds city centre. The chef was not Jamie in person, but follows his recipes. It was opened few weeks ago, and we alway wanted to give it a try as a food lover.
The starts was amazing, like tapas style. We had one vegetarian dish and one for seasonal meats. It was like the picture – look and taste were really gorgeous with cheese and bread! And we also ordered the white wine called Trebbiano Gargenega Del Veneto (2009) was light and fruity (reason price, but good value) I really enjoy the wine and the starter.
I ordered the lamp chop as my main course and I did try others pasta as well. My lamb was perfect – not too pink, not over cook, and it provided three sauces for me (mint, nuts and basil) I really enjoyed the main course. The other pasta was not bad. However, my friend's pumpkin risotto was a little bit runny, but tasted not bad either.
The portion was big and great, some of them we could not finish. The environment was quite posh and stylish. The service was excellent and really helpful.
Overall 4 star out of 5. I will definitely recommend it to you.