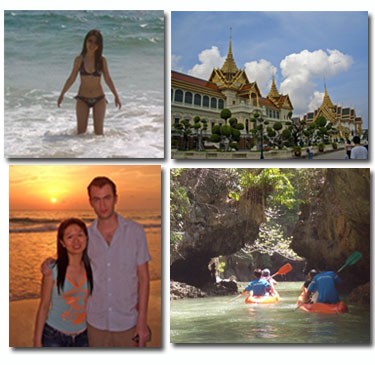 We planed to travel in Thailand by ourselves in May Pubic holiday. We booked the Air Asia Airline from Macao to Bangkok. Air Asia is cheap for the backpack traveler.
First destination: Bangkok
Bangkok known to the locals as Krungthep (City of Angels) is the rapidly beating heart of Thailand. Despite being just over 200 years old, it houses 8 million people and has all the facilities that a modern capital requires.
Here you will find the Grand Palace and the floating market, as well as the infamous Khao San road, and many other seedier tourist delights.
Bangkok suffers from major traffic problems, and journeys can (and often will) take much longer than the distance would have you believe. To alleviate this, Bangkok constructed the Expressway, cutting straight through the city. Additionally, there is the Skytrain, an overhead metro system, as well as an underground metro system.
There is another transportation is called Tuk Tuk. They will offer you a very good deal about travel in Bangkok; but it turned out they drive you to visit a tailor, a jeweller, or a restaurant. Just completely ignore TukTuk; take a taxi and save yourself any hassle.
Without sounding intimidating, you do need to apply a lot of common sense in Bangkok or the whole Thailand. As a tourist you will be a prime target for small-time scams, cons, and rip-offs. This is I didn't enjoy the transportation in Bangkok. You couldn't trust anyone at all. Who knows anyone came to talk to you and being nice to you, it turned out they all want you to visit the jeweler shop…
The Grand Palace
The Grand Palace, home of the King for nearly two centuries, is probably Bangkok's number one tourist destination and a required visit for everyone. It is a vast and intoxicating mixture of temples, shrines, palaces, and heavily jewelled and painted architecture.
A visit here is well worth the 250 baht entrance fee. It's more than just a mere Kodak-moment, and you'll likely spend the first 10 minutes walking around in astonishment at the sheer variety and quantity of sights.
Be aware that to enter the palace you will need to meet clothing requirements, and this is checked before you are allowed inside. Specifically, you'll need to wear trousers or a long skirt, and bare arms should be restricted to a t-shirt. Sandals should be fine, although bringing some socks will not harm. If you don't have the required clothing you can rent them from a building inside the walls.
Suan Lum Night Bazaar
Situated on an old army cadet college and supposedly containing over 3000 stalls, Suan Lum Night Bazaar is Thailand's first official night bazaar. Here you will find clothing, jewellery, antiques, furniture, food, and a good slice of nightlife.
Lumphini Park
Lumphini Park, donated by King Rama VI, is one of the few 'outdoor' areas in Bangkok.It is full of life, yet remains peaceful and quiet, even though the surrounding traffic may resemble a scene from Hell.
The park, not surprisingly, can be found next to Lumphini MRT station. Inside you will find boating lakes, a gym, people practicing Tai Chi, people bouncing to aerobic exercises, ballroom dancing, and people just walking and enjoying the scenery. This is a great place to escape from Bangkok and immerse yourself in the everyday lives of Thai people, without any worry about being swindled.
Siam Paragon
Sitting squarely in the centre of Bangkok this is Asia's largest shopping mall, and an ideal retreat when you've had enough of battling Bangkok, and just want to go somewhere that is clean, cool, and comfortable.
You don't even have to shop here. There's the Siam Ocean World in the basement, a multi-screen cinema and bowling alley upstairs, and enough shops in-between to satisfy the ultra-rich.
The food hall is of particular note, serving all kinds of high quality foods at very reasonable prices. In fact, after discovering this place you may wonder if there's any need to eat elsewhere.
Second destination: Phuket
Phuket, pearl of the South, is Thailand's largest island. Think endless beaches and crystal-clear blue ocean. Think The Beach and The Man With The Golden Gun. Think cheap tourist hell.
You'll love Phuket.
Phuket is where you go if you want to get away from the big city and relax by the ocean. Scuba diving, snorkelling, surfing, canoeing, rafting, speed boating and pretty much anything else involving water can be found here.
Place to stay: Hilton Arcadia Hotel & Spa, Karon Beach
The Hilton Arcadia is superb. It stands alone in a private paradise of parks, pools, lakes, and jungle. Everything is designed on a large open-plan scale, and the reception areas are like giant outdoor halls. Your initial impression will be that you have wandered into the bad-guys lair in a James Bond movie.
Upon arrival you are greeted with a hot towel and lychee juice, and are personally escorted to your spotlessly clean room. If you're lucky you'll get a balcony looking out over the Andaman Ocean, if not there are still-beautiful views of the surrounding mountains. You'll probably want to freshen up now, and this is more than amply taken care of with the separate shower and bath, complete with sliding doors that open out to the window view.
Enough of the glossy magazine adverts. There's no denying that this is a very beautiful hotel in a very beautiful area. Fortunately, at no time are you left feeling like the scenery has been spoiled. The hotel is tastefully decorated, and demurely fits into the jungle as if having always existed. You will be wake up by the peacocks or lovely birds singing in the morning, and Karon beach can be reached across a road at the front of the hotel.
Phuket Siam Sea Canoe
These guys were great, and are highly recommended. They're a little more expensive than the alternatives, but the extra money goes a long way to making a better experience. You are taken, along with 20 or so other people, on a medium sized boat out into the ocean. Soft drinks are free, as are biscuits and bananas. The crew fall over themselves to help, and they genuinely seem to enjoy their job. They were a very realizable tourist company. They were very kind and helpful. You only tipped them if they really gave you a good day.
The highlight of the canoeing is when you are taken into a cave running through an island. The cave is full of bats, thankfully sleeping, and when you break through the tiny you are greeted with a spectacular lagoon.
It's hard to describe how wonderful and tranquil this is, and pictures can only hint at it. The place is primordial. You are surrounded by sheer cliffs, trees, plants, and mangroves. You could almost be forgiven for thinking that Jurassic Park was a documentary.
Reality isn't far behind, and you're in this paradise with the 30 or so people on your boat, as well as several other boats that parked up alongside you. After a circuit of the lagoon you are taken back through the cave, only this time you jostle with other canoes for control of the entrance.
The other, very commercial, highlight of the tour is the visit to James Bond Island (Ko Phing Kan, as featured in The Man with the Golden Gun). What was once a remote deserted island is now lined with trinket-selling beach huts. Paradise has never been so busy. Despite this, it is undeniably beautiful, and the stalls are easily ignored.
One more stop is made on the way back where you are free to go swimming, relaxing, or canoeing. There are more people here, but you don't care; in a place like this, no one gets stressed.
Phi Phi Island by Sea Angel Company
Unlike the previous tour this was on a much bigger scale. The boat has a maximum capacity of 500 people, and you are packed inside like cattle on the way to market. This is not a peaceful trip by any means.
The tour makes several snorkelling stops, before arriving at Phi Phi island for lunch. Due to the number of people onboard, everything involves queuing. You queue to get a snorkel, you queue to get a jacket, and you queue to get into the water.
None of this matters once you're in the water. Swimming in the ocean and looking down on coral reefs and exotic fish is, simply put, an amazing experience. You'll want to stay all day, but the stops are only 15 or 20 minutes long before you have to return (and yes, queue to get back onboard).
This tourist company was contained too much people that we didn't enjoy Phiphi island most, but still snokelling in the water was really amazing us. I wish we paid more money and booked the fist tourist company.
Summaries in Thailand Trip:
Thailand is a great holiday destination, there is no mistaking that. You'll find everything from breathtaking scenery to historical monuments and, if so inclined, will never have to worry about being far from creature comforts.
Undoubtedly you will come away feeling like everyone is trying to get into your wallet. It's hard not to feel like you are being exploited, and it's hard not to feel like you're exploiting the Thai people. The amounts in question are generally small sums, to a foreigner anyway, but they are persistent and they can raise your heckles when all you want is peace.
Despite all this, I pretty enjoyed the trip in Thailand, even it's pretty hot. You'll enjoy yourself tremendously in this country. Bring the big wallet and there's enough to keep you occupied for months and enjoy the holidays here.