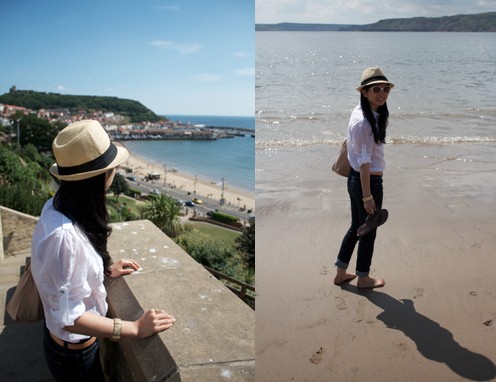 The best way to enjoy the summer is to go to beach and enjoy the sun. UK actually has a lot of beaches and sea-side towns, because it is a big island surrounding the sea. Since we are living in Yorkshire, Scarborough in North Yorkshire is the best holiday beach destination.
We drove 2 hours to reach Scarborough. My first impression of it was " wow, my god, it was so stunning pretty". We walked alone the beach, and saw that people were sunbathing, kids were making castles in the beach. It was an amazing to relax and be with your family.
You can easily buy any sea food such as lobster or big crabs for under £5. I forgot to buy one when we were back home. We ate really fresh cod fish and chip for lunch. The fish meat was so tasty and fresh, and I who was grown up by the coastal city girl, could tell the difference from sea fish and normal fish.
John said while we were in Scarborough, we could also visit Robin Hood Bay and Whitby. Robin Hood Bay is even smaller than Scarborough, just a small coastal village. Luckily we saw some dance performances of old village tradition. It was amazing and fun to experience.
Whitby like Scarborough is so pretty and felt like you were living in fairy Tale story. All the houses and colourful roofs, boats and yachts  did look like Scandinavia style, don't you think? I did feel like I was in another country rather than in the UK. It was very different of architectures and atmosphere. I did enjoy North Yorkshire so much – peaceful, quite, good quality of life.  However, it properly might be a little bit bored for young people.
We drove back home from Whitby through North Yorkshire Moors, and it was so pretty inside the moors. It felt like we were in some forests and so stunning beautiful. The weather was hot with blue sky all day long, that's why we got some amazing pictures.
You should see all the pictures we took in Scarborough beach and Whitby, and I am sure you will fall in love with them.