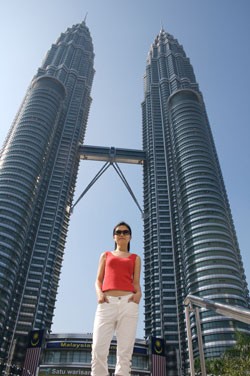 Singapore
We went to Singapore and Malaysia for a summer holiday in July. We decided to stay in Singapore for three days and visited my old friend Bu Duo, who I haven't seen for 10 years. Singapore has a very convenient metro system. We checked in Hangout Hotel which is located in Little India near Mt. Emily. Singapore is very expensive, just like Hong Kong. I think I needed to pay five times what I need to pay in Guangzhou. Our hotel was a boutique hotel for young back-packers, and had a very strong Ikea style. The price wasn't bad (especially not compared to other hotels in Singapore), with a quiet location. The room was very small, but the hotel made up for it in other areas.
Bu Duo took us to Esplanade – Theatres on the Bay – in the first night and we ate the delicious and famous Singaporean 'spicy crab'. It was the tastiest crab I've ever eaten. After dinner, we walked around the Esplanade (outside looks like a huge durian) and went to see the Merlion. The next day we spent the whole day in Sentosa, which was a small island. We visited Underwater World, rode on the Luge, and saw the dolphin show. Later we met with Bu Duo again and had a Thai dinner. We got tired for walking around all day and bought a ticket to see the "Transformers" movie.
Singapore is extremely clean and pretty. The city is full of energy and is very lively. It has some similarities with HK, but less people and more cleaner. I guess shopping in Singapore is more expensive than HK, although everyday expenses are like HK. I found so many cooking ingredients and imported foods in Singapore. I would like to live in Singapore!
Malaysia and Langkawi
When we arrived in Langkawi we rented a car from a company in the airport. We got a great deal for five days rental, totalling about 30RM a day! John drove of course; I was helping with directions.
We stayed in Tanjung Sanctuary hotel, which is a beautiful resort with a private beach. The hotel room was huge and we booked one with a sea view, right down by the beach. It's so easy with the rental car and we enjoyed the freedom to explore different places in Langkawi. I am so familiar with the roads of this island even now. We went to see different waterfalls, the cable car, and went on a mangrove and snorkelling trip. The cable car was exciting and scary at the same time, with break-taking views from the top. The rest of the days we just relaxed and enjoyed the beach.