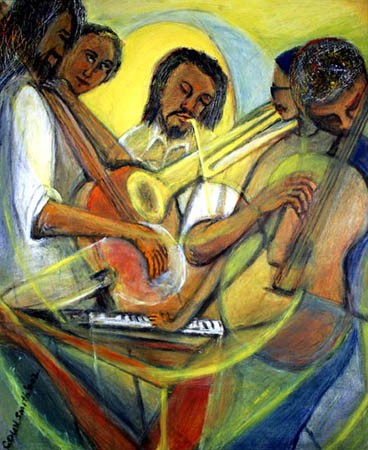 I am an open-minded, rebellious girl. No matter whether in work, in relationships, or in life, I always want to be happy. I know who I am, what I need to do, and what I live for. I don't care how other people judge me; only that I do my job well. I know if something has too many additions from the normal way, then it will change from the original. Sometimes things that happen in your life make you face your own reality.
My parents are a very traditional family in the Chaoshan area; Chaoshan people are famed for their caring attititude towards their family. I know many friends who have sacrificed their career to stay with the parents in Shantou. They are all very talented and they devote themselves to their family; they give up their dreams and live and work in their hometown. I am not saying that's wrong or right. Nothing is wrong or right when you see them in a different position. I don't know why Chinese parents always hope their children should live with them
and keep them in their vision?
My personal dream is this: parents should let children to experience what is life; let life teach them what the real world is about. Then you will try you best to earn money to devote to your hometown. I know it's my untouchable dream,but I always hope I could do that.
However, I think we are a new generation; we have our own mind, our own dreams, we are educated and we have learnt about different cultures. Is this a reason to give up your own dreams and follow your parents? What about yourself? What do you live for? My friend Shine said: "because you belong to your family". In Chinese tradition, parents raise you so you can't belong to yourself. It's one of the drawbacks. Though we choose to live our life in different towns, even our heart feels tired to strive against life sometimes; everyone wants to
settle down easily in life without worrying about things.
Will we be happy in the life our parents choose for us? Will their happiness be the same as our happiness? Different people have different paths in their life, and there are many routes with no choices. Human beings can't always be selfish. I prefer that my parents respect my choices and what my life is; but not necessarily the way they want it to be. I hope my parents will respect my choices and wish me happiness. If I am happy, then they will be happy as well. If they really love and understand me, they will respect what I choose and not
interfere with my lifestyle; they will be my guides and teachers, and not force me to down a path of their choosing. If that happens then people become rebellious and struggle against it.
People always have ups and downs and you can only learn from your own mistakes. You have to take your own path to experience what life is to truly learn something inside. Maybe I will walk very hard but I hope I can look back on my life and say that I have finished it without regret.
No matter where I am, my body floats in the world, but my heart is still in Shantou. I love my hometown; I love my family. Without them, there would be no Carmen. But I hope this love is based on a respect and trust that goes both ways.
为家庭而活还是为自己而活
思想前卫带有西方思想而又带有叛逆的我,总希望我的生活简单,无论工作,感情,生活,希望很简单,很开心去做就好,做好自己的本分,不需要太多的外界干扰,因为我知道,很多东西假如有太多的外界干扰,会使它变质。但事实上现实不是像你想象的这么简单,我的家庭很传统的潮汕家庭,是所有人都知道最传统的,最顾家庭的。很多同学为了家庭,父母而放弃在外拼搏的机会,我有很多很有才华的聪明的朋友,都为了家庭而放弃自己的理想。这没有存在错与对,不同的角度看东西的事情不同。
不知道中国的父母都认为孩子就一定留在父母的身边?这样不自私吗?孩子又怎么能永远在温室里成长呢?每当我以前上大学时,上学校大巴回广州时,车水马龙的交通都因为所有的父母护送大学生们离开,在离开时还依依不舍的嘱咐这些或那些。他们都是大学生了,而且几个月就回家一躺,这不是教育孩子的方式。独立的我,总是摇摇头,父母总说我不懂他们做父母的心,或许吧!我的思想是:孩子需要锻炼需要去外面闯一番,然后为尽量为自己家乡创造财富,这永远是
我伟大的梦想。 那我觉得,我们年轻一族,有思想,有抱负,接受不同文化的熏陶,就为了父母想你留在他们身边而放弃自己理想吗?那你追求的生活呢?我朋友涵涵说:"因为你还是属于你家庭,中国传统父母养育 让你不能属于你自己,这也是中国一大弊端吧。虽然出門在外奋斗,内心永远有种累感觉,我们可以理解一个做父母亲心情,他们也不想我们奋斗太辛苦。"我们何尝不想安安稳稳轻松的过日子,但你经历多,有了不同的生命价观,思想就不是很单纯的满足物质生活,而是想充实精神生活。
按照父母给我们的生活模式我们会幸福吗?我们的幸福跟他们认为的幸福一样吗?不同人有不同角度去看生活。我明白生活有很多无奈和责任这是当然的,虽然爱是自私的,我明白父母总想孩子们总生活在一起,但为孩子好的话,应该放多点成长的空间孩子们去体现这个世界。我希望无论我选择什么样的生活方式,望父母会选择尊重和希望我开心,他们看到我的开心而开心,而不是按照他们的生活方式去做人,去生活,我不想我的人生为了别人而活,那不是我要的生活,也不是我的性格,他们是爱我的或了解我的,应该尊重我的选择而不是干涉我的生活方式,可以在旁指导并引到我,而不是强加给我的思想,我会反抗,我会变的叛逆,我希望是我会自动的给予或回报而不是别人的索回。我想我的生命由我自己掌握,好与坏是自己选择的路,人总要在跌跌碰碰中成长,人总要学会每一步自己去走,才学到东西。也许我会走的很辛苦,但我会无怨无悔去经历去体验什么叫做生活。希望我在我闭上眼睛上天堂时,我对自己说,我今生无悔。
无论我身在何处,身在外,心在汕头,我仍然爱我可爱的汕头,也永远爱我的家人,没有他们就
没有我现在的我,但希望爱是种尊重与信任。