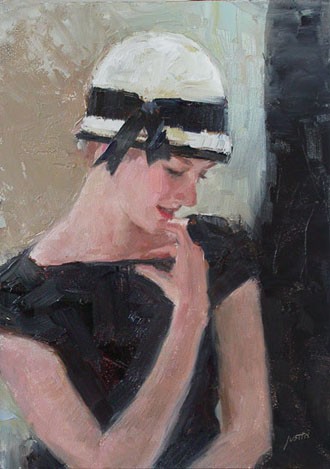 You might think "black and white" party? No, there is an interesting topic about different about complexion in China and the West.
My western friends keep asking me " why the Chinese always like taking the umbrella wherever sunshine is coming out?" people like be tanned or have a brown skin in the west. On the opposite, people in mainland China prefer their skin to look very white even like pale. There are several reasons for that. The big reason for white skin because Chinese men like women to look white. If women look white, it means they are week and innocent and men can protect them. The others reason is that white skin means they are rich, dark skin means they are working outdoors all the time, not an properly ladies.
However, in the west, people like to be tanned a lot and it represents healthy and fashion. It means people have more time for outdoors or on holidays and it is a rich symbol.
The same thought has appeared in most cultures. Hundreds of years ago it was a sign of beauty in Europe for a woman to be white, and this was for the exact same reasons: being white implied you were not working class, being dark implied you were a worker. At that time women used to apply all sorts of dangerous chemicals to their face to make it whiter. Queen Elizabeth I is famous for wearing lead powder, a chemical that we now know as being toxic to humans.
I'm sure the same will happen in China and over time having a tan will be a sign of wealth.
黑白主题
是否想到黑白派队呢?不是哦,是一个关于西方和中国喜欢不同肤色的主题。很多西方朋友问我,为什么中国人每当太阳出来就撑起雨伞呢?欧洲西方国家人们喜欢棕色的皮肤,而相反来说,中国人喜欢白皙的皮肤,主要的原因是中国男人喜欢白皙皮肤的女人,代表天真纯洁软弱,他们可以保护;二来白皙皮肤代表富贵的象征,假如棕色的皮肤,代表你是农民阶层,不是上流社会,白领的女人。
相反来说,西方国家喜欢棕色的皮肤,代表健康和时尚,同时也代表人们富裕的象征,有多余的钱去度假,晒太阳,享受生活,是有钱的象征!其实同样的事情发生在大多数的文化背景中。几百年前的欧洲,上流社会名媛白皙皮肤就是时尚与身份的象征。这也是同样的理由你不是工人阶级。伊丽莎白一代皇后就喜欢超级白皙的皮肤,涂上很多有毒的白皙化妆品,而这些漂白的化妆品而却是致癌的。
时代的变化,我相信不久的将来中国人也喜欢棕色的皮肤,同时也是代表富裕和健康。