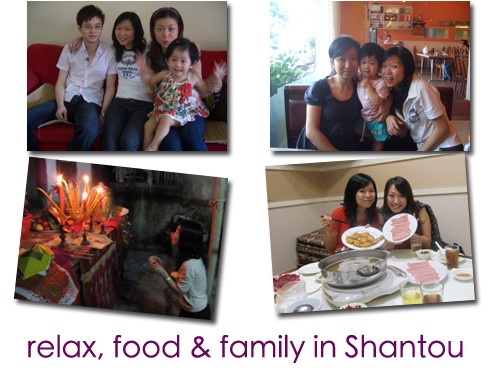 Back to Shantou
The most important thing in Shantou is to see my niece – Sissy. I remember she was born for a week then I left Shantou, and now she is 14 months and learning how to walk and talk. She is incredible smart and adorable.
Mum and Dad are very happy to see me being home, especially Mum, she always cooks so many food, and I don't even need to get out of the house. I love our new house in central of Shantou with enormous rooms and space for niece to play. Actually I do very little at home, basically just relax, eat food, help Mum do some house work, and then spend time with niece ( I enjoy being a babysitter. )
However, I haven't seen much of my Shantou friends. Some of them are in Guangzhou or Shenzhen, or most of them are married and expecting a child.
Though sometimes I got bored in Shantou, maybe because I am so used to the busy life in metropolitan cites or maybe I don't realise I am in holiday.
I can't believe that it will be ended soon with few days. The irony thing is that I quite look forward back to London, to have my own life back, moreover I do miss John a lot. Anyway, John and I will be back to China together soon in next few months.
I always love my home town no matter where I am.
回到汕头最重要的事情就是看我侄女-希希。记得我走之前她才刚出生1周,现在也有14个月,高高的个子,还在学走路和说话。她真的太聪明和可爱的,每次看到她会放电的大眼睛,任何人都忍不住爱上她,想亲她一口。
爸妈蛮高兴我回来的,特别是老妈子,整天买这墩那的给我吃,让我其实不用出门天天有好东西吃,也让我少吃了很多汕头的小吃。我蛮喜欢爸妈的新房子的,空间很大,给希希整天跑来跑去玩个够。其实在汕头主要还是休息,吃东西和帮老妈子打扫下房子,但最多是做希希的玩伴和保姆,我真开心能陪她这么常时间,以后不晓得她还认得我不?
但这次我却少走亲戚和朋友了,有些在外头,有些也结婚生孩子,大家有了家庭,出来的机会就少很多。虽然有时候会觉得在汕头蛮无聊的,也许我习惯了大都市的生活,或许我忘记了我在度假中,当你忙碌总想有休息的时间,休息的时候想忙碌点什么,这就是人生啊。
觉得无法相信很快就要结束我的假期。实际上我蛮期待回去过自己的生活,重要的是我蛮想念约翰的!但我们过年时候2人一起再回来吧。无论身在何处,我都是爱我家和汕头。