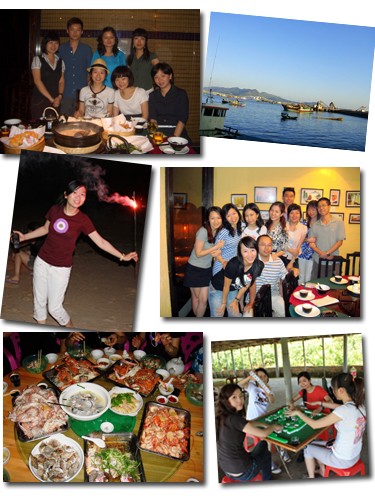 Back to Guangzhou
I was so looking forward back to China. There are two things I have to do; one is to eat a lot of chinese food, and to see my friends. I arrived on Thursday night after 12 hours plane plus 3 hours couch from HK airport, but I was still very excited to meet Casper and Shine. They have been waiting for me at 'Uncle' which is a HK canteen style restaurant to have dinner with me. However, I was not aware of Yuki and other friends had booked a table to welcome me. At the end, I hanged out with all my friends at my first night.
The whole Guangzhou trip was so busy that I didn't have time to feel jet-leg. First day, I had dimsum with my ex-colleagues, and went to visit their new office. It did feel weird, and felt like I had never left before. Anyway, it's so good to see them again.
Then friends had arranged a trip to Yangjiang at the weekend. We were so lucky to eat a lot of seafood which just caught from the ocean. After dinner, we went to have firework on the beach, then ate again. Thanks Jenie's husband for their hospitality, so that we ate, slept and entertained well. It was a unforgettable journey.
The rest days in Guangzhou I ate with friends and went to foot / body massages basically every night. It wasn't enough to spend one week in Guangzhou, then I have to back to Shantou to see my family.
It's hard to say goodbye to my Guangzhou friends! I wish I could be here forever.
我十分期待回国,回去我的心只想两件事,第一就是吃很多中国菜,第二就是见我许多朋友们!经过12小时直飞加3小时香港机场到广州,周4晚终于到了,虽然累,但想到食物和朋友们,我还是提起精神来。棋和涵在'表叔'餐厅等我吃饭,但李宁和其他大群朋友说已经5点多钟就定好台等我吃饭了。我却不知道,哎!但是第一天晚上还是和朋友们一起聊天喝酒续续旧。
当天才睡了2个钟头而已,然后正式的第1天就和前领馆的同事一起吃饭,和他们聊天续旧,大家都还是很疼爱我,多我呵护有加。我实在太感动,我离开后,他们不仅还记得我,还是对我依旧的好。然后还回去了领馆看下大家,虽然我走了,很多东西也变了,但感觉我好像从来没有离开过一样。
接着周末朋友们安排了去阳江吃海鲜,真的要感谢金铃的老公,让我们吃好,住好,也娱乐得好!到了那里,先吃当地的小吃,再去等渔船刚捞上来的海鲜,晚饭就是海鲜宴,真是过分啊!20多只胖螃蟹吃都吃不完!晚饭后又去海边放烟花,再吃甜点,再炒菜吃宵夜!隔天专门开车去吃乡村的烤泥鸡,打完麻将,再吃烤鸡。阳江之行真是难忘啊!除了吃,就是笑了!
接下来的每天都是朋友请我吃饭,按摩,吃点心。这次再和啊娜见了面,她真客气,还请了我们吃顿1千多的饭,谢谢她的有心!我的广州之旅真是奢侈和开心。我真的要谢谢所有广州的朋友们,爱你们在心口难开啊,没有你们,就没有我今天的开心。 实在不舍得和你们说再见,不过我会再回去和你们见面的。等我喔!