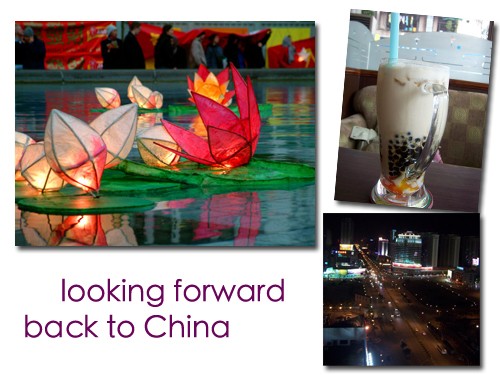 Since 08/08/2008 last year till today 09/09/2009, I have been away from China and my friends for over 1 year. It seems very long, but it also feels like just yesterday. I guess I could not adjust the weather when I am back to Guangzhou. The weather here in London is perfect temperature about 19-25 degrees, however, Guangzhou is about 35 degrees and very humid. Then I properly will spend one week to adjust the jet-leg.
All these things do not matter when I think of meeting friends, eating delicious food and spending time with my niece and family. The joy will be overcome the bad sides. Yuki and other friends plan to drive to Yangjiang and eat seafood there at the weekend I arrive. On one hand, I can't wait flying on Tuesday. On the other hand, I do feel sad that John could not join me back to China this time, maybe we will be back during the Chinese New year Next year!
One sad thing is that sister told me Mum has rented out our old house. It means that the house where I had spent 20 years is gone – my white cat, my usual place, and everything. Although the house is old and small, it contains all the memories of my childhood, friends who came to visit, and normal life. I know that sooner or later it will need to be re-decorate it, or sell it, but I will miss it so much!
Anyway, see you soon, my friends! Thanks Trini of her bubble tea and Shantou pictures!
兴奋的快回中国!
从8月8号2008年离开中国,到今天9月9号2009年,差不多一年没有回国,想起来好像很久,但实际又好像是昨天,1年中发生了很多事,大家都为生活努力奋斗着!伦敦的天气十分清爽-19-15度之间,回到广州我可能不太适应广州的闷热35度的温度,再说,要1个星期才能调节好我的时差。
但这些都不要紧,一想到见到老朋友和吃很多中餐,海鲜及最重要是见我姐的女儿,从她出生到现在1年了,我很想念希希!Yuki 已经安排好到达的周末去阳江吃海鲜!我太兴奋了。下周二就飞,但我又舍不得约翰一个人在伦敦,可惜他不能请假太久回去,过年我们再一起回去吧。
一个很伤心的消息,老姐告诉我我家的老房子租给别人了,老房子储存了我20年生活的点滴 - 从小学到中专,朋友来来回回去我家作客,老家虽旧,但很多朋友都感觉是他们的另一个窝。我可怜的白猫,很多角落的点滴,回忆就这样很快消失了。其实我知道老家需要重新专修或租出去的,只是时间问题,我会想念它的!
总而言之,我太兴奋的飞回去啦,等我哦,朋友们!封面珍珠奶茶的照片是旖旎同学汕头的照片哦!