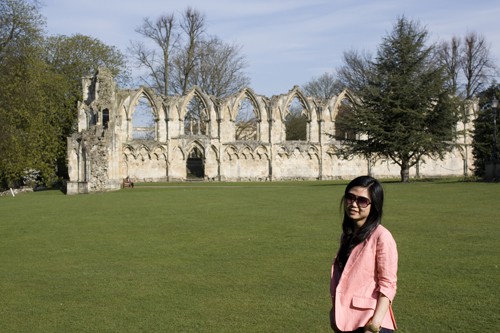 Since we moved to Leeds, we haven't got time to explore North Yorkshire yet. It was warm and sunny yesterday, so we decided to travel to York for a day, and to enjoy the Spring weather.
York was founded by the Romans in 71 AD, so is famous of its nature beauty and historical heritage. It is a wealthy small city with a lot of historical churches, buildings, and houses in every little corner. The picture I took in the front cover was one of the churches properly had knocked down by Henry VIII in 16th century.
We also went to see the famous Jórvík Viking Centre and experienced how the Vikings' lives were in 866 AD. It was really authentic experience and they said you supposed to smell of the Vikings' cooking too. It was indeed a really fun experience. At lunch, I ordered a famous 'a taste of York' roast belly pork sandwich and was incredible delicious. After lunch and few cup of tea, we went to see the Railway Museum and to see how Britain was so powerful and rich when it had discovered the steam engines and the world was changed after it.
York is really a nice place to visit and I am sure we will return it next time to discover more castles or scenery nearby York as well. Here are some pictures we took.
从搬来利兹之后,忙于各种各样的东西,都没有时间去旅游。昨天太阳高照,我们决定去出了名历史悠久的约克城市观光下。约克大概有1千9百年历史,果然是历史悠久的城市,所以你到处可以看到很多15-16世纪的教堂啊,18世纪的房子。象伦敦一样,路上的每个砖头都有历史味道,当然,以年龄来说,约克比伦敦老很多。约克曾被称为当时的英国首都。约克是一个蛮富裕的城市,可以感觉到以前或现在都是蛮有钱人住的城市。一个蛮小休闲的城市,居然很多名牌都部落在街头,感觉游客们个个都穿得富贵华丽,街头也有很多名贵的豪华车,不愧是以前的首都。
封面的照片应该是16世纪亨利八世反对天主教然后毁灭掉的教堂。我还走过去摸了摸1千多年的教堂石头,教堂的毁灭真的蛮可惜的。我们还去体验了北欧海盗侵入约克的时期,地学研究家把海盗们在约克的生活点滴都用假人雕磨出来,假人还会动也会和你说话,虽然有点毛骨悚然,不过还是蛮真实的体验。
中午时候我点了约克最老最有名的烤肉店,我点了烤乳猪肉三文治,超正超多肉 - 真的吃肥死我了。喝了星巴克Latte充实精力后,我们去参观了英国铁路博物馆,看了许多旧的火车和汽车展览,体验了英国蒸汽时代英国的繁荣和如何成为不落日帝国。蛮有趣经历的。
我相信下次我们还回去约克玩,开车去约克周边的城堡啊,坐下小船之类的。等大家来,带你们去约克玩。点击这里我们照了有些约克的照片!