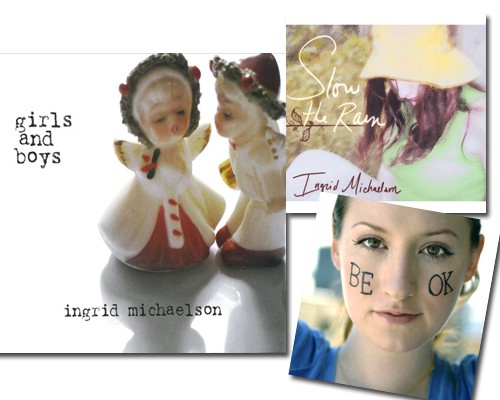 Discovered Ingrid Michaelson while I am listening in last.fm. so I gave it a try, then I became her fans instantly, and like her three of main albums. Her style is like Sia, Feist, and Priscilla Ahn, which is female vocalists, acoustic and indie pop. Moreover, her song called "Little Romance" was also in Sex And The City Volume 2.
Coincidentally, I just saw information in last.fm which states that in September 2008 she supported Jason Mraz during his European tour. Surprisingly, she will perform in Hammersmith Apollo in next Monday 27th April in London, however, I am not sure I can make it. But I do appreciate her music. Here are her main albums names:
Girls and Boys
Be OK
Slow the Rain
This is her Myspace, and you can listen her music in last.fm.
无意中在 last.fm 听歌,在我自己创建的音乐图书馆(只选择我喜欢的歌手)它自动推荐一位纽约女歌手叫 Ingrid Michaelson,然后听了下她所有的专集,越听越喜欢,她自创歌曲,音乐风格象 Sia, Feist, 和 Priscilla Ahn一样,歌曲浪漫中带伤感,是适合春天季节听的歌曲!仔细看它的介绍,巧合中,Ingrid 还和 Jason Mraz 前年9月份一起在欧洲巡回演唱会合唱呢。
她的歌曲真的不错,27号还在伦敦演唱会,真想去,但现在23号,我觉得买票有点紧,周末去看看。3张专集都超好听:最新张叫:Girls and Boys,然后是 Be OK,我的最爱:Slow the Rain. 她的一首 'Little Romance' 还是电影原声带 Sex And The City 选播之一!这是她的空间 Myspace,你可以在last.fm在线听下你喜不喜她的类型!