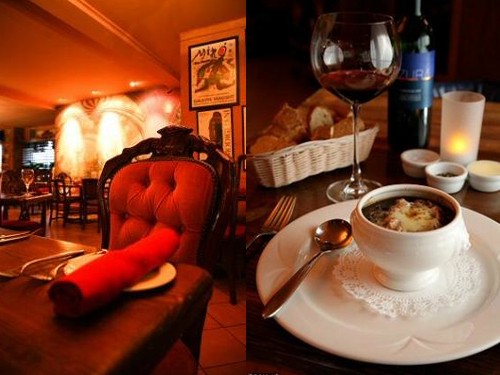 As a food lover, discovering good food is always my favourite part of a week. We saw Kendell's Bistro French restaurant in Leeds city centre through the Internet, and it always has the best reviews. John's Mum's birthday is coming, so we took her there for special occasion.
We love French food and the best one we tried was my 27th birthday and our wedding day called Savoir Faire in Holborn London. It was really delicious, good service, and home-made French food. So I can't wait to try another home-made French food in Leeds.
When we arrived, I was expected that it would be a tiny cozy restaurant, but it wasn't. It was a big and open restaurant with many artistic pictures on the wall. It was fairly dark with candles everywhere. The interior decoration style was really French – elegant and romantic with French Jazz music. The atmosphere was just perfect and so my taste.
All the menu was written on the blackboard because it changes all the time, depends on the Seasons. You can see the main Chef Steve Kendell was so busy cooking through an open kitchen. We all ordered a three-courses-meal and some red wine: I ordered a French Onion Soup, Roast Pork Belly along with some roast potato and vegetables, and Lemon Tart. It was beautiful and gorgeous with right amount portion. The starter was right amount and tasty. The pork was tender, juicy and the cracker was perfect. The tart was fresh. The service was excellent and friendly. We did enjoy the food so much and felt like we instantly fell into the heaven.
The owner knew it was John's Mum's birthday, and gave her a rose champagne to treat her special. It was very thoughtful. All the little details made the restaurant different and we did have a good time. I certainly will return in the future. Price is very reasonable, good quality food, excellent service and good atmosphere. It deserves a 4.5 stars of 5. Highly recommended.
The cover picture was from I Know Yorkshire. It will be so perfect to read this article and listening Editch Piaf. I felt like I am already in France.