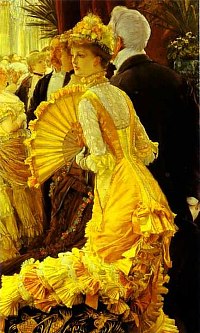 If we are talking about ages, then my favourite age is the Victorian one, spanning the years 1819 to 1901. This period of time was characterised by rapid changes and developments in nearly every sphere. Queen Victoria was the first English monarch to see her name given to a period whilst still living. I love a lot of literature, fashion, and works of art from the Victoria era. Today we associate this time with Protestant work ethics, family values, religious observation, and institutional faith.
There is so much artwork and fashion from the Victorian age that I love. My favourites include Georges Seurat (Sunday afternoon on the Island of La Grande Jatte), a French painter who was a leader in the neo-impressionist movement of the late 19th century. Georges Seurat is the ultimate example of the artist as scientist.
Another is James Tissot. Victorian Life/Modern Love features many of Tissot's finest works (The Ball 1878 di James Tissot oil on canvas). Tissot's entire career, with particular emphasis on the paintings he did in London, reflect his penetrating insight into Victorian life.
There are a lot of books that represent the Victoria era like " A Woman's Place" an Oral History of Working Class Women, 1890-1940 from Elizabeth Roberts. This tells the story of a conformist generation, obedient to tradition, their emotional and material wants narrowed by poverty and fatalism, their manners and morals disciplined by Christian values (not doctrine).
维多利亚时代的时尚
维多利亚时期也正是艺术界最活跃的时期之一,经过了新古典主义绘画,记录真人为模特的肖像画取代了原本的宗教画,由此我们也可以从当时的绘画中,最直接的看到十九世纪的维多利亚时代的各种时代背景,像时装,文学和风格。维多利亚时代的女性在追求成为谨慎的" 女士"同时,职业妇女,去异国旅行的有闲太太等以新的行动模式出现的女性层出不穷。上世纪六十年起风行的维多利亚风潮中最有趣的是,从政治宗教的观点来看,它跟身穿黑裙的维多利亚女王所统治的十九世纪封建维多利亚王朝的理念是完全对立的。这也是当时的维多利亚时尚的魅力所在。内衣外穿,蕾丝和丝袜和缎子,长衬裙,再加上多数的Chelsea (伦敦高级时尚区)的女孩都在蝴蝶结或鞋上缀上以浮雕宝石,六十年代所流行的维多利亚风就这样被定义下来,那是一个新时代,同时也象征着一个纯洁无暇的时代的到来。