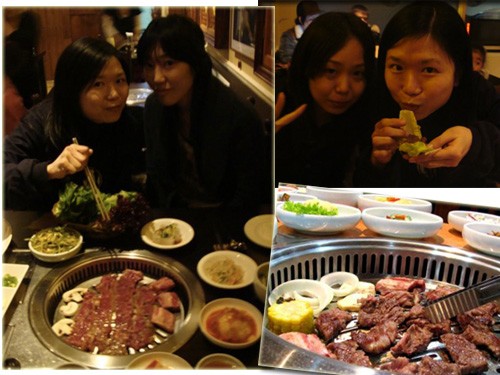 Fun Girls' weekend
John went to Ireland a week for his business trip, so I asked Eileen to stay my house for the weekend, so girls can enjoy some champagne and eat different food. As we planned before, we went to eat unlimited PingPong Dimsum on Friday night, then we were back home and we drunk two bottles of Rose Wine while we were chatting. It was dizzy but so much fun to get crazy sometimes.
Next morning, I cooked my new recipes Green Thai Prawn with baby spanish and Jasmine rice for lunch. It was so easy to cook and we enjoyed it so much. Then we decided to travel to Wimbledon where Eileen lives and had a walk in the park, then went to try the famous Korean Barbecue in New Malden.
Jin Go Gae Korean BBQ Review
Eileen from Soul of South Korean so she introduced to us a lot of Korean food and culture. We have been tried different Korean food in Central London. However, people say that New Malden is one of the popular Korean communities and the food from there is more authentic and cheaper. While we were in Wimbledon, New Malden is just 10 minutes by bus.
Eileen has booked the table of the famous restaurant called Jin Go Gae, and Miwa joined us for dinner as well, so we hopped on the bus 131 from Central Wimbledon and went to Burlington Road. We are so glad that we booked the table, because it was a small restaurant, and packed with Korean, Japanese Asian people eating there.
First, we were served with several compliments dishes which is impossible to find in Central London. Then Eileen ordered three portions of BBQ Beef Ribs and two portions of Pork Belly. All the meats were Marianne with delicious sauces, and you Barbecued by yourself. Then when it was done, you need to use the raw Vegetable rapped with the meat plus some spicy green onion or rice. The meat was unbelievable tender and juicy. Miwa and I was eating non-stop and Eileen was laughing at us.
It was the most delicious Korean BBQ ever. I gave it 5 stars and we only paid £15 each! What a good meal and bargain!
Place: 272 Burlington Road, KT3 4NL
Tel: 020 8949 2506
Tube: Nearest Train station: Motspur Park Rail / Raynes Park
女人周末大吃会
约翰去爱尔兰出差1周,我叫好朋友Eileen周末过来我家住,两个女的一起吃喝聊天。约了周5见面,先去PingPong喝茶吃点心。然后回到我家,两人买了1瓶香槟喝酒聊天,然后感觉还不够mood, 再去买多一瓶。聊天到凌晨1点然后睡觉。
隔天,我煮了泰国绿咖喱大虾加菠菜给Eileen,她说味道十分正宗也十分美味,全都吃完。然后我们去温布顿Eileen的家坐会,决定晚上吃期待已久的韩国BBQ烤肉料理。Eileen幸好定了位置,因为那家人十分受欢迎。美和决定加入我们的大吃团。进了餐厅,哇,烧烤肉的味道都漂入你鼻子,再看看,里面都是坐的全是韩国人和日本人。
韩国烤肉我实在太喜欢了,正宗的吃法是用碳熏肉,然后加生菜和辣葱和肉一起吃。我们点了3大份牛肉2大份猪肉。我和美和吃得太高兴,生活肉是奄过,烤完一点都不老,多汁加十分鲜甜!实在太野味了。Eileen总笑我们吃得狼吞虎咽,韩国烤肉实在太好吃了,我天天吃都没有可以。我们实在享受这次女人周末大吃会。