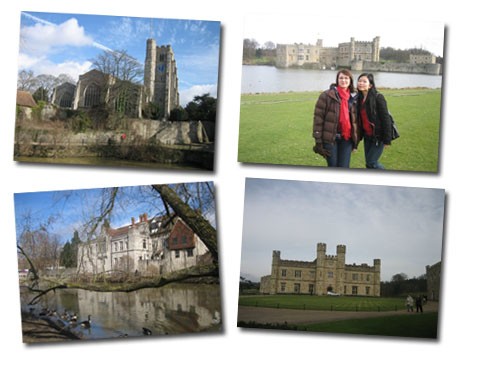 Regardless how stressful of school works, I am glad that Melanie came to visit us in London on Friday, so we decided to drive to visit Maidstone in Kent City, which known as the Garden of England. There are some areas dating back to beyond the Stone Age.
Maidstone is 32 miles away in south-east of London. It is a pretty historical town with many 14th century churches and museums. We walked around the town centre and drove to see the Leeds Castle.
Leeds Castle
First, we went to Lehman village for some lunches, and then drove another 3-5 miles, we arrived Leeds castle. £15 for entrance fee. It is famous for next to a lake, and it is huge, peaceful, as well as astonishing beauty of the castle and the garden. It might take you at least 2-3 hours wondering around.
The castle was a royal palace for many generations of Kings and Queens. Unusually, there are several black swans and peacocks walking around, and apparently they like tourists' attention. We might return there on summer holiday. Here are some pictures.
肯德镇和利兹古堡
快期末了,不说学习压力如何大,约翰的妹妹(梅乐琳)周五来伦敦公干,顺便看我们。我们带她去吃点心,然后周六就开车去东南部肯德镇(自己的翻译),它离伦敦32公里,开车1个小时左右,天气很好,觉得好像小时候的春游。到了市中心,很多14世纪遗留下来的教堂,博物馆和很多古色古香的木房子。它是一个小镇,但满热闹和漂亮的,大家都很和蔼。当我在照相时候,一个青年帅哥说:要照我吗?然后就摆个姿势。超级搞笑!
先去另一个小镇吃三文治先,然后开车到利兹古堡,入门15磅。据说古堡名字起的好怪,古堡不在利兹城市,但却叫利兹古堡。古堡因它的美丽而出名,坐落在湖边,在一个超级大的花园,有一个足球场大,至少可以逛2-3个小时才走完。建于1119年,之后是很多代皇室家族的宫殿或花园。真是奢华!湖边有黑色天鹅,花园有几只孔雀。它们都自由自在的生活着,享受着人们的关注,过着明星般的生活。你可以想象得到多么诗情画意的画面。由于时间关系,我们只游走了一半,可能我们夏天再去拉。这里有最新的照片。