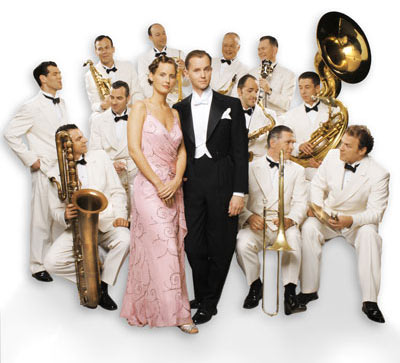 Last night we went to Xinghai concert to watch Max Raabe & Palace Orchestra . Max Raabe, as lead singer of the group, got his ultra-smooth baritone voice singing German music in a 1930's style. His ensemble, the Palace Orchestra, includes a gowned violinist. Their performance combined a sense of humor with up-tempo and down-tempo songs, and Raabe's face always had the mysterious smile when he was singing.
Raabe presented a rainbow of 26 songs, ranging from old soundtracks, jazz songs, and even two Chinese folk songs ("Small River is Running" and "Jasmine Flower"), both of which were performed in Chinese. This surprised the audience and caused a big applause.
We did enjoy this concert. It was a very nice performance, and broke our expectations of it just being traditional jazz. Living in the big city means you have more chances to explore different musical cultures.
昨天晚上我们去星海音乐厅观赏德国宫殿乐团经典爵士音乐会1987年他与12位成员成立"宫殿乐团",德国著名歌手马克思·哈勃与他的宫殿乐队,世界著名轻音乐团之一。
马克思·哈勃他穿着笔直的燕尾礼服,梳着光滑的大背头,面带神秘的微笑,带着娱乐性的怀旧感觉,歌唱着全球二三十年代经典的怀旧歌曲。他们选择的歌曲十分特别,没有旧歌重复再重复的感觉;哈勃将自己置于一种完美的不可思议的幽默的梦幻式的场景,他们的音乐包括主打歌和对句,古巴的伦巴,让人振奋的狐步舞曲以及典雅的探戈。所有这些歌曲带着难以名状的严肃性,既有轻松,也带着淡淡的哀愁.
马克思·哈勃以轻快的方式演唱德国的经典爵士歌曲,他非常的渴望用他那富于变化的男中音演绎一些独特的音乐。他们以自己得方式创造出独特的爵士音乐,一首Check to Check, 一首中国云南名歌(小河趟水)让全场掌声响起, 到最后各个都要 Encore.
最让大家印象深刻就是以每个人拿着铃钟,每一个人敲一声来组成的一首爵士乐,曲中以幽默独特的表演,逗得大家都乐了。
连John一个只喜欢英伦音乐的人都在这场音乐会所感染,可知道他们的魅力,是个难得的机会接受不同音乐文化的交流,的确,住在大城市就有多点机会熏陶世界各地的音乐会。