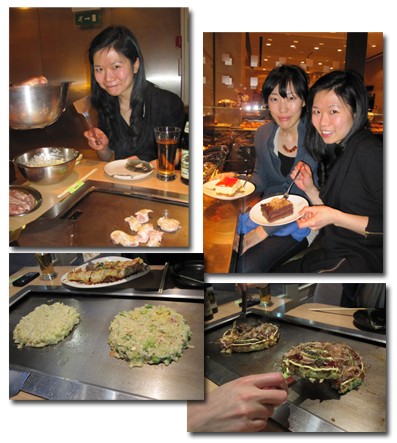 It was our ast weekend living in London, so we met Eileen to try the Japanese Okonomiyaki in near Leicester Square Station. The restaurant Abeno is really famous Okonomiyaki in town. I remember Eileen took me there last year, and I loved it so much.
Okonomiyaki is like the omelettes with different meats, or seafood or vegetables inside, and on top with Japanese mayonnaise sources. So we decided to take John there for his first Japanese meal in town. The restaurant is small with only three tables and a round sussi bar. Luckily, we got a table, then we tried some Japanese beers, two okonomiywaki with different meats, and one Om-Soba.
Waiters bought all the raw ingredients in a bowl and used teppan-yaki grill to pan-fried everything into a pancake. You got the entertainment from the waiter cooking in front of you. Then at last, dressing with Japanese mayonnaise, BBQ sources, then some fish flakes on top. (dressing are optional)
It was so tasty and highly recommended. Surprisingly John really loved it. I was not sure that Japanese food is his cup of tea, but he tried, and he liked it.