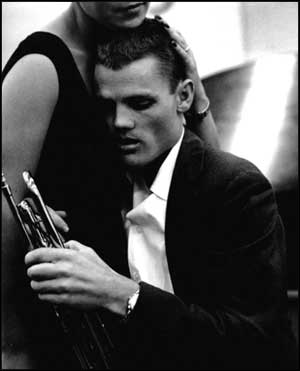 May 13 1988 the great musician Chet Baker had passed away. He is always one of my favourite Jazz musicians with his legendary trumpet and sentimental voice.After watching his documentary in BBC iplayer – Let's get lost, and knew much more about Chet. He was such a talent for music and trumpet. Jazz was the most popular music in his era, and he was naturally picked it up without any properly training.
Chet's personal life was quite a story. He had married three times, and all women just felt in love with him instantly. However, he never settled down in a place. Not like nowadays' musician, he didn't have too much glamour extravagant life style. He had been tried very hard to survive in recession as a musician. His life was like a dream – floating and travelling all the time. He was alike a lot of  musicians – do whatever he liked, no limitation and all about freedom. He preferred performing in Europe rather than the State personally and he was such a hit in Europe in that time from Let's get lost documentary.
He was such a charming and passionate musician. Even after watching his documentary, I did fall in love with him as well. Chet was indeed a handsome and boyish look with his incredible gentle and soft voice. When he sang, your heart is literally melting, and you could just non-stop listening to his music, just like a magnet.
I found it is so interesting that even he aged in late 50, he still could sing and perform so well, and his voice didn't age at all. Unfortunately drugs got him killed – what a pity! As my website is using theWordPress programme, the 2.8 named the version called Baker because the owner Matt Mullenweg likes Jazz as well.
One thing I like about Chet's music is more unique and the way he liked to play jazz, more like smooth Jazz rather than commercial jazz.  Chet's music will always in our hearts and every time when I listen to his songs, it makes me think, day-dreaming and feel the world – about sadness and happiness. I could listen to his songs nights and days.