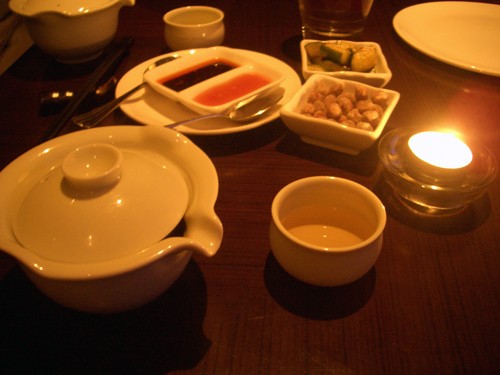 Congfu Tea , talking about Congfu tea it made me have a thought about another different culture in between Chinese and Western country.
Cong Fu tea, which is popular in Chaoshan area of Guangdong and the south of Fujian, is integrated with many aspects of tea such as spirit, ceremony, tea-making technique, and quality commentary. Regulations are made for the tea sets, tea-leaves and water, and its making, teaing and serving. It's wonderful beyond words to sip and taste tea slowly and carefully with the small pot and cups. The fragrant of tea is divide several like green tea Tieguanyin, brown tea Oolong tea etc. As a chaoshanese from Shantou we are not only proud of our Congfu tea culture, every one also know how to make Congfu tea. but today we aren't talking about how to make the Congfu tea; we are going to talk about the core of Congfu tea spirit.
Western people normally there have four dairy drinking cultures. One is coffee culture or British brown tea with milk and sugar one, the Coke drinking and the sparking water. In west, people drinking or eating are very individual way because people are more emphasis on what you own like and respect the other people's choice. Western people are prefer to their own characteristics and specialties.
In Chaoshan or even the China, we are more emphasis on the group. My foreign friends always say Chinese like to follow the leader; Like if a shop has many people on the line waiting; other people might think it's the nice shop, then follow the group. We like have a big drink or big meal like Hot-pot and everyone share with the same pot. Like Congfu tea, congfu tea always have 3 cups or more than 3 cups; it means all the people are sitting around the tea-set and talk in a group. It's like a small party with serving a Congfu tea. That's why people in China always say Chaoshaneses have the coherence of all the Chanshan people; I think it's naturally form from our dairy life eating & living and become a culture.
It's just funny that when I had a congfu tea with friends and talked about Congfu tea spirit and I realized it's true that the different living style form in different culture, and I suggest sometimes these two opposite culture should exchange. Let Chinese experience more individual more; let westerners enjoy more group spirit.
说起功夫茶,它令我想到了中西饮食文化的差异,做为地道汕头人的我,不但个个都要会冲一壶好茶,也要懂得茶的文化精神。流行于广东潮汕、闽南等地的工夫茶,融精神、礼仪、沏泡技艺、巡茶艺术、品评质量为一体。无论是对茶具、茶叶、水质还是冲泡、饮法、礼节都中规中矩,大有讲究。茶具小壶小杯,品茶需慢慢吸啜细细品尝,妙不可言。内涵丰富的工夫茶习俗可谓中国茶文化一绝,但今天我想讲的是中西文化的饮食文化的不同而带来不同思维方式。
西方国家的人通常有四种是他们日常会喝的东西,像多数是咖啡,英式红茶,可乐和有汽的矿泉水。在西方,大家都很强调个性与独立,他们尊重别人的选择,不会把他们的思想强加在别人身上,这让每个人都很体现个性和独特性的追求。你喝你的咖啡,我喝我的饮料。
在潮汕地区,甚至其他中国地方,大家喜欢跟群,跟大伙;总之大伙说的一定是好的,像一家店前面很多人排队,那家人一定好吃;我们的个性宣传不是很大,中国人喜欢谦逊,喜欢照顾大众牺牲自己,可以说集体思想偏多一点,这是我们的一种美德,。潮汕地区的团结力就象我们大家围在一起品尝功夫茶一样,客人喝茶先,永远照顾大众,像一个陌生的人在藤下遮荫时,你要你看见有人在冲功夫茶,只要你停留片刻,大家都会热情叫你喝上几口功夫茶然后跟你闲话几句,体现照顾大众的文化。
在跟朋友品尝功夫茶同时启发我其实中西文化的不同来源与饮食习惯。中国人喜欢大伙一起分享;西方国家的人喜欢个性的美;其实我觉得这两种文化应该交换和综合,让中国人学习更有个性的美,多点享受自己的空间,自己争取想要的东西;让西方国家的人学习更有集体主义的美。