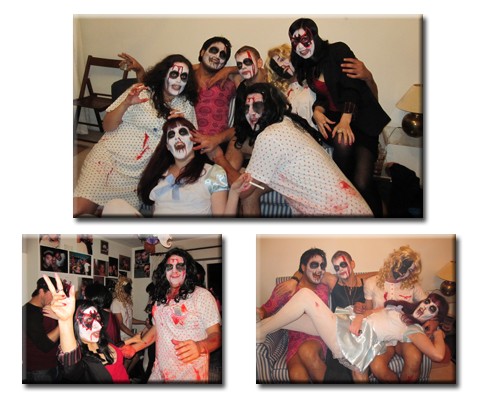 My ex-colleagues asked me to attend her house Halloween Party, so I was so excited about it. We all dressed up and I was a fashionable devil. And Rachel was a zombie 'Alice in wonderland'. Men all dressed up as zombie women, it was awesome and crazy.
I had a lot of fun and friends were very crazy when it comes to party. Sometimes I do think I am too old for partying anymore, and I just don't have the energy keep drinking and dancing…Urg. I am officially admitting I am getting old.
So I left at 9:30, then went to take the tube back home with my scary make-up on. You can imagine that how many people were staring at me in that time. Some looked at me and had a question mark in their head; some came to say fantastic to me; and some were laughing and thinking so halloween. I don't care slightly at all…it was fun to dress up and had a good time with my friend.
It's my first being crazy in Halloween here. I do miss my old party time of halloween with Yuki and Jenie in GZ. Here are more crazy pictures.
前同事们叫我去他们家过万圣节派对,所以周5晚我太兴奋了。我打扮成女魔鬼,Rachel打扮成死去的《艾丽斯在田野里》,男的全部扮成女鬼。朋友们都太鬼马了,扮得十分诡异,玩得也超级疯狂。我玩得很开心,不过觉得老了,现在玩就点都觉得没有精力了。所以9点多就回家。搭地铁回家时候,因为赶时间,脸上的装还没有卸,有些人已迷惑的神情看着我;有些在我面前说真好看;有些对着我在笑。哈哈,真过瘾,这是我英国第一次去参加万圣节派对,不过想念广州时候和李宁姐妹们一起疯狂万圣节的时候。这里更多的疯狂照片