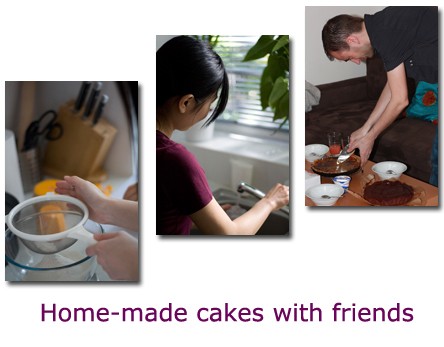 I do enjoy the sunny day and hot temperature in London, and it is hot, but as humid as China. I asked friends to come to my house and made some cakes together before they fly back to HK and Japan. We bought so many ingredients and made the pumpkin pie and chocolate trifle cake.
Vicky and Miwa enjoyed making cakes and we had so much fun, even though Vicky had some flower everywhere, and Miwa dropped an egg on the floor, it's part of the fun and experience with friends. After 2 hours hard work, we ordered Papajohn's pizza and watched some girl's movie – He is not in too you. Then drinking and chatting until 1 am.
I enjoy the quality time with friends here in Summer day, cool breeze, hot sun, summer clothes, cool beer, good food and good accompany, then what a happy weekend. Here are some of our latest pictures.
I have been working hard to find a part-time job, had 2 interviews yesterday, but we will see the  results and I have work harder hunting on Monday. Tonight we will see Keane and Ladyhawke's concert in Shepherd  Bush, I am so looking forward to seeing them.
一个休闲的夏天
喜欢伦敦夏天的阳光,大大的太阳,感觉很热但风是凉爽的。虽然热,但不至于流汗,不过市中心因人多,汽车多,所以就超热,但没有广州那么潮湿,干爽天气。下周大家都快回各自的国家了,所以我叫泳棋和美和,来我家齐齐动手做蛋糕和派,我们买和超级多材料,做我们之前做过的南瓜派和巧克力莫丝。
泳棋和美和一起搓面粉啊,切南瓜,虽然他们都是第一次亲自烤蛋糕,泳棋把厨房搞得到处是面粉,美和把蛋掉到地上,这些都是开心的片刻,和他们一起享受生活美食的经历。经过2个小时的辛苦准备,终于完成了我们的派和巧克力蛋糕,然后我们叫了papajohn的pizza,一起看电影,甜点就是我们的派和蛋糕拉。
我十分享受夏天的凉风,热太阳,夏天的短裤,好朋友一起吃喝一起笑,轻松的夏天周末就这样过!这里是我们的最新照片。
我在努力找兼职呢,昨天有2份面试,不知道成不成功,英国兼职很难找啊,很多欧洲人来竞争,加上金融风暴,好在伦敦到处都是机会,周一再接再厉。今晚去听Keane 和 Ladyhawke的演唱会,约翰喜欢ladyhawke,等待疯狂的激情的夜晚终于来了。