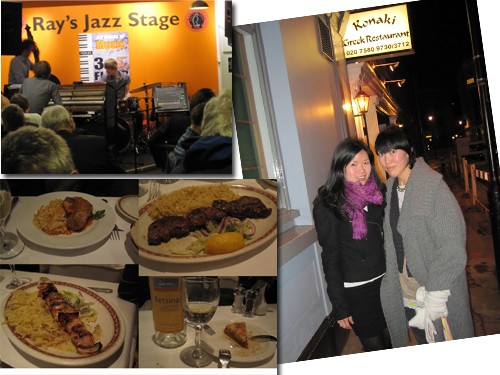 Eileen and I went to the Jazz cafe to seeRay's Jazz live above Foyle Book shop near Tottencourt Station. It was a small cozy cafe with Jazz Live band. It was very full and everyone went to listen their performance. Fantastic Music!
After that, we booked a table to Konaki Greek Restaurant according my research and it voted 4 of 5 Greek restaurant in town. Meet John inside the restaurant, and enjoyed our great lamb and greek pasta and wine.
Lamb is exactly tender as it should be. Eileen's lamb shank and John's BBQ chicken was perfect cook and very tasty. It was a good meal with friendly environment. It was my first time to try the Greek food and I absolutely love greek's pasta.
It was a satisfied meal and chatted so much with Eileen.