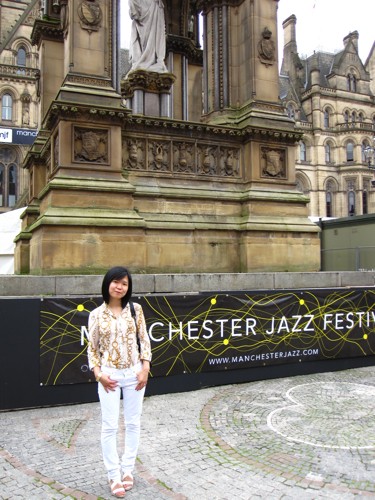 After John went to Manchester for his conference meeting, he said I would love to go shopping and experience Manchester. We decided to drive to Manchester at this weekend and see whether I like it or not.
It was very easy road to drive from Leeds to Manchester. After 40 minutes, we parked in central of Manchester and started to explore the area. It got Selfridges and a lot of big departments, high street, and a lot more choices than Leeds. I always think Leeds city centre is too small. I did enjoy to go shopping in London, but could be quite tired, because it is huge. I could easily spend one day only walking in Oxford Street. However, Manchester is the perfect size for going shopping. You don't need to take tubes to go to different area, but it got so many designers shops and brands everywhere.
Manchester is famous for a huge number of Chinese population, and it means there is a lot of Chinese restaurants in town, so we went to Tai Wu restaurant, which we had been to the same one in Guangzhou and it is a big Chain dimsum restaurant in China. It was great dimsum – very cheap. Price was from £1.7-£3 per dish. However, like in China, Tai Wu didn't have much of vegetarian choices because John likes vegetarian dimsum. I think we ordered 8-10 dishes and came out only £16 for the bill.
Interestingly there was Jazz Festival promoting in Manchester city centre, and pity that we didn't stay long to attend the event. I can feel more music cultural happening in Manchester than Leeds.
Manchester always has the reputation that it is a rough and scary city and I felt it when I was there, not because I followed the stereotype, but it was true.  Even though living in London for 2 years, I didn't feel London is particular a rough or dangerous city. It has some rough area for sure, but I never felt uncomfortable living there. I think I might feel quite dangerous living in Manchester, but it was my personal opinion and it is properly not fully true if you are living there rather than as a visitor.
I do like Manchester, and bigger than Leeds and  love about the shopping and many choices of food. I will definitely go shopping there again and return often. It makes me miss London a lot.