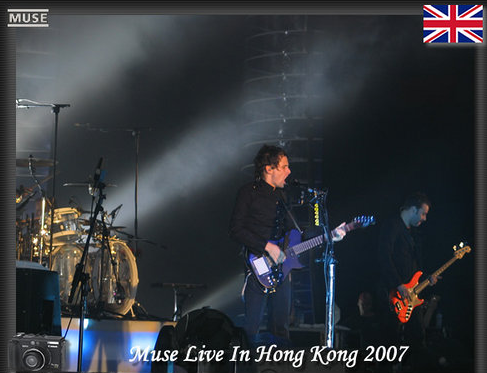 Last Saturday we went to Hong Kong to see Muse play in concert. It was one of the most amazing live concerts I've ever seen, and over six thousand people came to see them at the Asiaworld Expo centre.
We went there about 7 o'clock (concert starts at 8pm) and already fans were queuing up and hoping to get a good position. The setting was perfect, with stars on be the background just like "starlight". The drummer sitting in the middle, Matt standing on the left, and base guitar on the right. There was very little space between the stage and fans so the early queuers got a real treat.
Muse played most of the new album, with a good selection of earlier music (including one from the first album). Matt Bellamy is an extraordinarily musician and singer, leaping from guitar to piano without blinking. The crowd feedback peaked during "Time is running out" with everyone joining in. The last song saw five giant balloons descend from the sky, with everyone trying to jump and hit them. There is no doubt that they deserved the award for Best Live Band at the Brits, as well as Best British Band from NME.
2 hours passed far too quickly. I didn't expect Muse would be such a big hit in Hong Kong, but everyone was very energetic and responsive. Being on the small side I didn't see as much as I would like, and often found myself being crushed by jumping guys, stepping on my feet and swinging their sweat next to me. Beside that everyone was awesome and you could feel their love of the music.
It was an outstanding concert to watch and I'm glad I went. Even though Jazz has an irreplaceable place in my heart, Rock is now part of my rebellion and I wish more concerts will be held in Hong Kong (even better, in Guangzhou) so we can appreciate talented musicians. Their music is a work of art.
Here is their MySpace