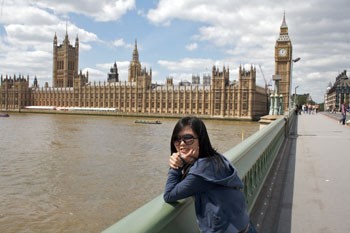 John took me visit all the attractions in London at the weekend. We have been through London eye, The Houses of Parliament, Tower Bridge, Trafalgar Square,The Tower of London,The British Museum,Tate Gallery of Modern Art, China Town, Buckingham Palace, OXO Tower, Piccadilly Circus, St Paul`s Cathedral, Shakespeare`s Globe Theatre and Brick Lane. I can't believe that we have done so many tourist places in these two days, but I got a lot of fun and different experience as well.
On the way I also went to play on the Mary-go-around for few minutes. It sounds childish, but actually I haven't done that since 1990; it just reminded me of my childhood. Many cool artists perform their show near London eyes. You put some money, then they will move or perform for you. Funny things is I wasn't expect to see a man dressed up with a horror mouth in his stomach and I was screaming and everyone was looking at me. And then the man decided to make me scream one more time; he was chasing me and used his scary month to bite my arm. God…so funny but I couldn't help screaming.
I have to say there are so many places to visit in London and I love the city atmosphere.