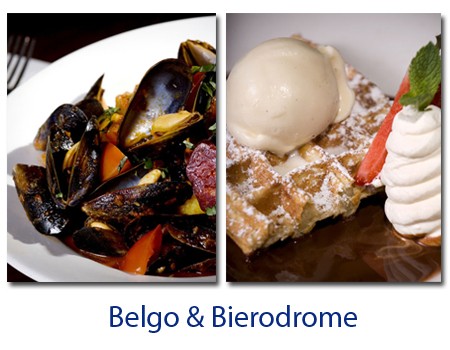 Friends and I went to the Belgian restaurant called Belgo last friday to celebrate my friend's birthday and also a cheer-up for no-more exams. The restaurant is located in Covent Garden and it is really famous for the mussels and of course their beers! It is a popular restaurant and people always queue outside, but very easy to get a seat. It is an opening kitchen and you can feel the noises and smell delicious food when you walked in.
We ordered a beef with Belgium beer – dark favor, beef was tender and juicy; a chicken dish – creamy but less tasty than the beef; a classic sausages and mash – creamy and perfect mash with spicy sausages; and finally my favorite green spinish with creamy mussels – looked like a green pizza, but so delicious! Thumbs up!
Moreover, there is always a room for desserts. So we tried the Belgium chocolate cheese cake and passionfruit with white chocolate mousse. Oh dear! They were so enjoyable and definitely 5 stars.
Overall, service is not bad, environment is cool and trendy, and food price is acceptable. Each person spent 20 pounds. I definitely go there again.
The cover pictures is from their website and I re-designed them. Some pictures are ready to share with you!
比利时餐厅 - Belgo
朋友们上周五一起去吃比利时菜,一来庆祝我朋友的生日,二来庆祝考试结束。餐厅听说在伦敦很出名,到9点多还有很多人在等位子就知道名气。餐厅招牌菜就是"淡菜",我都忘记中文叫它呢,然后就是比利时啤酒拉!进入餐厅,时尚但随意,红色装饰,开放式厨房格局,蛮不错的!
我们点了一个啤酒牛肉,超浓的牛肉味和雪梨香味,牛肉滑而嫩!再来一个奶油鸡肉,香淡但一般;还有比利时香肠加土豆泥,滑滑的土豆泥,香辣的香肠;最后来个波菜芝士淡菜,超级好吃。我一般不吃淡菜的,但这种做法我就吃。哈!我点了比利时啤酒,朋友们点了草莓啤酒。吃完了,服务生强烈介绍要点比利时巧克力芝士蛋糕和百香果白巧克力摩丝(热带果摩丝)。食物十分野味,甜品不甜而入口香滑!超级不错的介绍,我还想再去呢。这是我朋友照的几张照片!