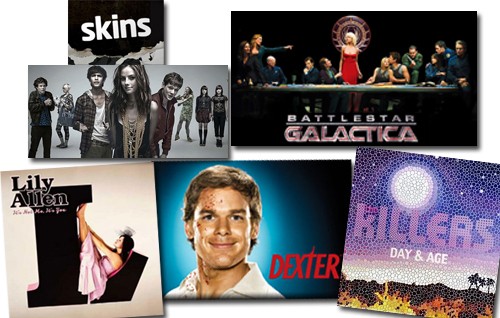 After the Christmas break, school has started, and now it has become very busy with essays and exams again. The weather feels like approaching Spring. I can't wait to see the spring and summer coming.
Despite the heavy-loaded school works, I still manage to squeeze some time to watch some TV programmes and music for relaxation.
Dexter Season 3
Dexter season three was 5 stars, and actually I love it since the season one came out. It is a cohesive drama with complex characters and stories. Each season has its theme about Dexter. First season is to find out who was Dexter, second season is that Dexter found out who is he and season 3 is what he wants to be. There is an exciting news to know that they are producing the season four. I wonder what is the theme in season four about Dexter?
Battlestar Glactica
Then following the remarkable dramma is Battlestar Galactica – the final season. It will be sad to see the end of the 5 years accompany. It has many perspectives to see different layers of people's personalities, with political bureaucracies, power, moral choices, conflict, emotion, and the hope to survive. It was a fantastic TV series. The stories sometime are complicated, dark, even depress in season three, however it shows people never give up their hopes. And It does portray many aspects of multifaceted human being. This is one of the reason I like this TV drama. "We" are complicated.
Skins 2009
I Watched 2008 Skins last year. At the beginning, I thought it was one of those stereotypes teenage stories. However, it did surprise me that the story uses about 6 characters who is around 15 to 20 years old, describe the complex emotional problems of the modern young generation. It is a period for them to find out who they are and what they want to be. I guess everyone has the same experience when they grow up. They are passionate, energetic, and even troublesome. They sometime make mistakes, but they are still learning and the most important thing is to discover themselves. This is the story of skins. Of course, stories are basic on teenage in the UK, it might be a different culture as we grow up
Music – Lily Allen
New album "It's not me, it's you" 4 stars out of 5. There are only few songs I think they are ok, the rest is very nice. Recommended!
The killers – Day & Age
It's not new anymore, few months old now. The song "human" is controversy about the lyrics, but it is a very nice song and album! Good value!