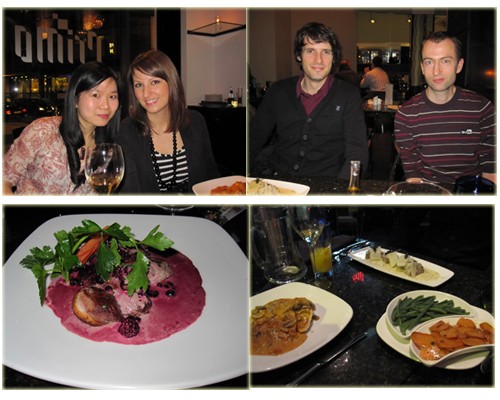 Since moved to Leeds, we have been so busy organising the new house. After two weeks, we finished it mostly, and decided to eat out on Friday night.
Piccolino Restaurant
I haven't try a lot of restaurants yet, but it certainly plenty in city centre. On John's birthday, we went to the Italian restaurant Piccolino Restaurant in Park Row. It was really expensive like London price. Main courses are like £12-14. I ordered a sausage risotto and was really a good one. However, portion was small, but taste really authentic! John and Mel ordered the chicken pizza and they both said it was really good. 4 out of 5 stars
Primo Ristorante
On Friday night, we tried another Italian restaurant downstairs of our building called Primo Ristorante. It had really fancy decoration inside. Price is really good – main courses are from £10, and pasta / Pizza was £6-7. Wine is from £14. Dishes was well presented, and really tasty; services were friendly too! However, I wish the dishes could be bigger portion. For example, I ordered a duck with berries sauce, and it came with 4 pieces meats. Despite the portion, it tasted really good. 4 out of 5 stars
Sky Lounge
Then we went to the popular bar called Sky Lounge on the top of the City Inn Hotel. The decoration and atmosphere was fantastic. Drinks are same price in London, but worth a try and certainly will bring my friends there again!
It all thanks to Melanie and Paul to take us to experience these good places!