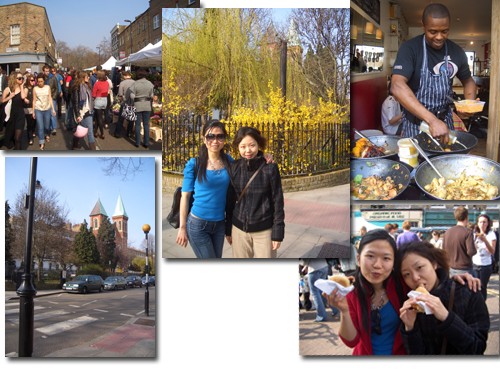 It was John's birthday yesterday, and it was sweet to spend with him relaxing at home and eating some great food. Today, it was a nice crispy sunny day of Spring in London, so we decided to have a walk along the Regent Canal with Miwa. Luckily we had finished all the school projects and essays, so we can enjoy our free time.
We talked two miles to reach Angel in Islington. On the half way, John discovered a local market called Broadway Market next to Victoria Park. Surprisingly, it is a very trendy area – all you can see there were full of fashionable young people, who were shopping some local food, picking their sandwiches, drinking some fruit smoothes, as well as purchasing some second hand clothes.
Miwa and I first picked some German sausage hot-dog to share, and then we bought some French fusion food – coconut tiger prawn with some rice for £7. 50 each. John picked some healthy vegetable burger. The normal lunch price is from £3 – £8, and dessert from £2 – £5. It is not bad with so much fresh and home-made food or desserts – a perfect for a Spring panic in the Park. I do like this market – funky, trendy and fusion style. Then we walked another mile to reach Islington and had some chill Mango Passion fruit Frappuccino – so nice and cool to call a day.
春天的伦敦
昨天是约翰的生日,我们买了很多东西在家下厨,本想买礼物给他,出去逛街,结果买了很多自己的东西,却没有买给他,哈哈,他不介意的。我们把所有学校的功课都完成了,决定好好休息和享受春天的到来。所以今天,一个清爽蓝色的周末,我们决定和日本朋友 – 美和一起沿着学校的小河散步到另一个城镇。
我们漫步走了2公里,半路约翰发掘靠近维多利亚公园的一个当地的百老汇市场。很多时尚的年轻人溜着狗,骑着单车,带着旧式的太阳眼镜,搭配着十分时尚的衣服买着三文治,新鲜蔬菜,自家做的蔬菜派和独特午餐,还有很多甜点,蛋糕,朱古力布朗尼,看到都流口水。
首先我和美和先尝试下德国的出名的香肠热狗,超级好吃!然后去了家法国买了虾椰子饭,一份£.7.50磅,约翰用5磅买了一个素食汉堡包。普通午餐在3到5磅不等,甜点从2到5磅。价格还可以接受,虽然分量小点,但是自家做的,新鲜程度和用料方面都很下功夫,所以还是值得的。一群朋友一起买着三文治,在公园野餐,是最好不过的春天周末约会。我十分喜欢这个市场,时尚,新鲜,大把食物。我们再走了1公里路,然后喝上杯芒果热情果冰爽,结束今天的散步,真是超级爽!